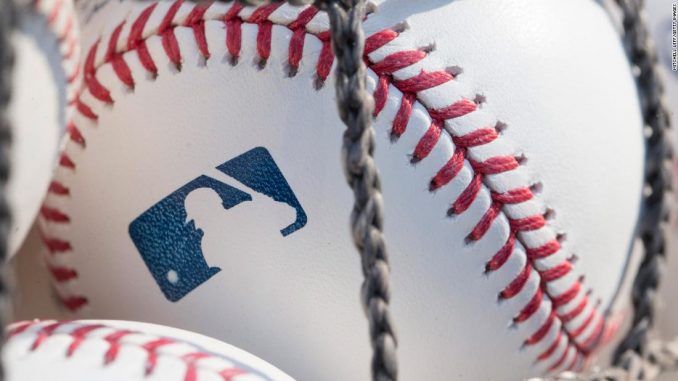 Major League Baseball (MLB) announced Friday that it is pulling its All-Star Game for the 2021 season out of Georgia in protest of the state's new voting restrictions signed into law last month.
Rob Manfred, the MLB commissioner, said in a statement the decision was made after conversations with teams and players and that moving the July 13 game out of the Peach State is "the best way to demonstrate our values as a sport." The MLB draft will also be moved out of Georgia.
"Major League Baseball fundamentally supports voting rights for all Americans and opposes restrictions to the ballot box," Manfred said.
Georgia and Republicans, including Gov. Brian Kemp, face mounting backlash over the elections reform law, which Democrats call a veiled attempt at voter suppression.
"Sadly, Republicans in my home state have outperformed in the category of suppressive laws with the passage of Senate Bill 202," voting rights activist and former state Rep. Stacey Abrams (D) wrote in an op-ed this week.
The measure, among other restrictions, puts limits on ballot drop boxes and when they can be used, minimizes the period in which a Georgia resident can apply for a mail-in ballot, institutes photo ID requirements for absentee voting and bans giving out food or drink within 150 feet of polling places, including to those waiting in line to vote.
The GOP-backed law came after Biden flipped the state blue in the 2020 election, which was followed by Democrats capturing both of the state's Senate seats in January runoff elections.
Prominent groups including the American Civil Liberties Union, Lawyer's Committee for Civil Rights and New Georgia Project have all filed lawsuits against the package, which President Biden recently called "Jim Crow on steroids."
Multiple private sector firms, including several based in Georgia, have voiced criticism of the new law, though none have yet gone as far as the MLB in moving their businesses or major events.
Coca-Cola CEO James Quincey called the restrictions "unacceptable" and "a step backwards," and Delta Air Lines CEO Ed Bastian said the law "includes provisions that will make it harder for many underrepresented voters, particularly Black voters, to exercise their constitutional right to elect their representatives."
"Hopefully, we'll build such a hue and cry that the Legislature will have to correct what they've done," Abrams said in an interview with The Atlanta Journal-Constitution.
Biden in his criticism of the law earlier this week had also expressed support for the MLB to move its annual All-Star Game.
"I think today's professional athletes are acting incredibly responsibly. I would strongly support them doing that," he told ESPN in an interview the day before baseball's opening day.
Manfred noted the MLB's 2020 partnership with the Civic Alliance to "encourage baseball fans and communities throughout our country to perform their civic duty and actively participate in the voting process."
"Fair access to voting continues to have our game's unwavering support," he said.
Kemp blasted the MLB in a statement, calling the decision "the direct result of repeated lies from Joe Biden and Stacey Abrams" and vowing not to back down from the new law.
"Today, Major League Baseball caved to fear, political opportunism, and liberal lies," Kemp said. "Georgians — and all Americans — should fully understand what the MLB's knee-jerk decision means: cancel culture and woke political activists are coming for every aspect of your life, sports included. If the left doesn't agree with you, facts and the truth do not matter."
In a statement, the Atlanta Braves said they are "deeply disappointed" with the MLB's move.
"The Braves organization will continue to stress the importance of equal voting opportunities and we had hoped our city could use this event as a platform to enhance the discussion," the team said, adding that "businesses, employees, and fans in Georgia are the victims of this decision."
The Braves statement regarding the moving of the MLB All-Star Game: pic.twitter.com/0Iapm3eIre

— Atlanta Braves (@Braves) April 2, 2021
And GOP Rep. Jeff Duncan (S.C.) said he would offer a bill "to remove Major League Baseball's federal antitrust exception" in response to its announcement.
In light of @MLB's stance to undermine election integrity laws, I have instructed my staff to begin drafting legislation to remove Major League Baseball's federal antitrust exception.

— Rep. Jeff Duncan (@RepJeffDuncan) April 2, 2021
Kemp had previously defended the legislation, saying he's "glad to deal with" the corporate backlash.
"If they want to have a debate about the merits and the facts of the bill, then we should do that," he said Wednesday.
The furor over Georgia's voting law comes as other state-level Republicans across the country mull restrictions of their own.
Texas became the latest to push forward legislation Wednesday when its state Senate passed a bill that would limit extended early voting hours, prohibit drive-thru voting and bar local election officials from automatically sending vote-by-mail applications to voters, among other things.
Republicans have said such legislation is necessary to assure voters that elections are safe and secure after widespread claims of fraud were propagated by former President Trump and his allies last year. However, no evidence has emerged to suggest any widespread fraud marred the results of any election in 2020.
Via The Hill