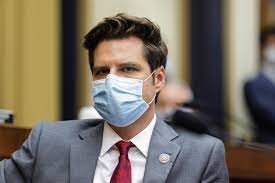 A defiant Rep. Matt Gaetz (R-Fla.) says he has no plans to resign from Congress amid a federal investigation into whether he paid women — and a 17-year-old girl — for sexual favors.
Yet behind the scenes, a growing number of Gaetz's Republican colleagues are predicting his days on Capitol Hill are growing short.
"In reality, yes, he won't last long," one member told The Hill on Friday.
The forecasts seem to be based on some combination of political pragmatism and wishful thinking.
Gaetz, who stands among the fiercest defenders of former President Trump, is no stranger to controversy, but the latest allegations — which have stemmed from a broader sex trafficking investigation involving the prostitution of minors — are by far the most serious. And Gaetz's flair for flamboyant confrontation — he recently flew to Wyoming to stage a rally against GOP Rep. Liz Cheney on her home turf — has endeared him to pro-Trump conservatives outside the Beltway, but has also made him plenty of enemies within his own party.
Former Rep. Barbara Comstock (R-Va.) called this week for Gaetz's removal following the new reports of the Department of Justice's (DOJ) investigation.
"This — now, even more ever," she tweeted, referring to her biting assertion in January that Gaetz "should not be a member of Congress."
Others are more quietly distancing themselves from the embattled three-term Floridian, with Rep. David Valadeo (R-Calif.) opting to donate the 2020 campaign contributions he received from Gaetz to an organization that supports the victims of domestic abuse, a move first reported Friday by Axios.
Most of Gaetz's Republican colleagues have remained silent following the news of the DOJ probe — at least publicly. And GOP lawmakers said that trend will likely continue unless Gaetz is indicted.
Still, those same voices are quick to add that Gaetz faces huge challenges in rehabilitating his image given the severity of the allegations against him. Several members referred to the scandal as "bizarre," with one telling The Hill bluntly: "It sounds really bad."
"My bar is always: charges filed. But if these [allegations] are true, the status of his committee assignments and congressional seat are the least of his concerns," another lawmaker said, referring to the potential for criminal charges.
Through it all, Gaetz has maintained his innocence. The 38-year-old firebrand has vehemently denied any wrongdoing, asserting that he has not had any inappropriate relationships with a minor and has never paid for sex.
"It is a horrible allegation and it is a lie. The New York Times is running a story that I have traveled with a 17-year-old woman and that is verifiably false. People can look at my travel records and see that that is not the case. What is happening is an extortion of me and my family," he said during an appearance on "Tucker Carlson Tonight" on Tuesday.
On Friday, Gaetz shot down rumors that he was stepping down from his seat, telling The Hill it's "very safe" to say that he has no plans to resign from Congress.
Gaetz says that he is the victim in the unsavory saga, arguing that he and his father, a former president of the Florida state Senate, have been targeted by several men, including a former DOJ official, seeking funds to rescue Robert Levinson, a former CIA agent who went missing in Iran in 2007. Gaetz claims those men sought to extort $25 million from his father in exchange for having any looming charges against the younger Gaetz dropped.
"I know that there was a demand for money in exchange for a commitment that he could make this investigation go away along with his co-conspirators," Gaetz told Carlson.
In interviews with various news outlets this week, all three men implicated by Gaetz have denied any involvement in an extortion effort.
"He's trying to distract attention from a pending tidal wave that is about to sink his ship," David McGee, the former DOJ official, told The New York Times.
Members of leadership in both parties have acknowledged the gravity of the allegations, with House Minority Leader Kevin McCarthy (R-Calif.) saying that Gaetz would be removed from his committee assignments if the accusations are proven true.
"Those are serious implications. If it comes out to be true, yes, we would remove him if that's the case," he told Fox News on Wednesday. "But right now Matt Gaetz says that it's not true and we don't have any information. So let's get all the information."
Speaker Nancy Pelosi (D-Calif.) said she believes the House Ethics Committee should launch a probe into the matter.
"If, in fact, these allegations are true, of course being removed from the Judiciary Committee is the least that could be done," Pelosi said on a press call Thursday. "But again, I think from what we've heard so far, this would be a matter for the Ethics Committee."
While Gaetz says he has no intention of resigning while the investigation continues, some members of his staff are having different thoughts. On Friday, Luke Ball, Gaetz's communication director, resigned from the office.
Via The Hill