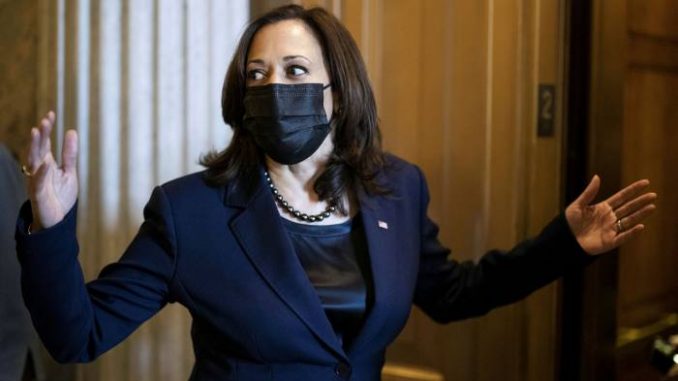 Vice President Harris finds herself in a precarious position when it comes to helping to solve the migrant crisis at the border, particularly as someone with presidential aspirations.
The issue could pose major challenges for a future White House bid, especially if it goes poorly, opening Harris up to attacks from the right as well as potential scrutiny from those on the left who have been unhappy with the Biden administration's handling of immigrant children.
"Taking on immigration as a niche issue is filled with both opportunity and risk for the vice president," said Democratic strategist Joel Payne. "This is especially true for someone with her public profile, which is relatively new to a huge swath of the country."
Payne added that it's particularly thorny for Democrats, if history is any indication. They point to former President Obama's difficulty on the issue within his own party.
"Immigration is a much trickier issue within the Democratic Party than conventional wisdom would suggest," he said. "There's a lot of scar tissue from Obama-era immigration policies that many activists are still very animated over."
Allies to Harris also fear the worse, when it comes to the outcome.
"It isn't the greatest assignment," said one ally who has worked alongside Harris. "It's a big assignment but it won't be easy."
As the White House came under growing pressure over a surge in migrant children being housed at border facilities, Biden announced late last month that he would task Harris to lead engagements with Mexico and the Northern Triangle countries to stem the flow of migrants to the U.S. southern border.
In making the announcement, Biden noted that he fulfilled a similar role during his time as vice president under Obama. He also described Harris as the best fit for the job, noting both her past work as attorney general of California and advocacy for human rights.
"I gave you a tough job, and you're smiling, but there's no one better capable of trying to organize this for us," Biden said to Harris.
In the first two months of the administration, Democrats pondered why Harris hadn't been given a specific policy role at the White House, particularly as others took other possible posts, such as overseeing the coronavirus relief package.
"A lot of people have been wondering what her portfolio will look like," said one Democratic donor who was surprised by the lack of a role for Harris.
When it comes to the situation at the border, the White House has been careful to specify that Harris is not in charge per se but is instead leading the diplomatic piece in trying to work with the other countries to address the root causes of migration.
"The vice president is not doing the border," Harris spokeswoman Symone Sanders told reporters during a trip to Connecticut last week, noting that Biden had tasked Harris with handling the "diplomatic issues."
White House press secretary Jen Psaki reiterated that during a briefing on Friday when asked how Biden viewed Harris's role, saying the vice president "is really focused on the Northern Triangle" and that Secretary of Homeland Security Alejandro Mayorkas and Health and Human Services Secretary Xavier Becerra are overseeing the shelters for young migrants crossing into the U.S.
One Democratic strategist surmised that the White House was trying to take the attention off the situation at the border and focus on the international aspect of the challenge.
"They're not very sure what they can do to solve the situation at the border but by couching this more as a foreign policy issue, it makes it less tangible for the voter because voters don't always pay attention to foreign policy issues," the strategist said.
The Washington Post reported Friday on preliminary data showing more than 171,000 migrants were taken into U.S. custody along the border during the month of March — the highest level for any one month in more than a decade.
Psaki said Friday that the Biden administration's message continues to be that now is not the time to come.
"We are not naive about the challenge, but what our focus is on is solutions and actions to help address the unaccompanied minors coming across the border and making it less of an incentive to come," she said.
The role does give Harris the opportunity to show she is taking charge of a pressing and difficult issue regardless of the political risks. Some advocates are also hopeful that Harris will carry forward the views she held as a senator, including by advocating for due process rights for migrants who are detained upon entering the U.S.
"I feel cautiously optimistic," said Clara Long, who focuses on immigration and border policy at Human Rights Watch. "She was a strong voice for due process, access to attorneys, the idea that a protection system should exist and I hope she takes that same perspective to her engagement with other countries."
Harris held her first call with Guatemalan President Alejandro Giammattei on Tuesday. She has no immediate plans to travel to the border, however, and Biden has suggested he could do so at some point but the White House has not offered a particular timeline.
While Biden maintains high approval ratings for his handling of the economy and the coronavirus pandemic, his handling of immigration is a weak spot. A recent NPR/Marist poll found that 53 percent of U.S. adults disapprove of Biden's handling of immigration, while only 34 percent approve.
Republicans have hammered the administration, accusing the new president of encouraging the surge of migrants as the White House has sought to shift blame back to the Trump administration. Biden reversed many of the former president's immigration policies, including by accepting unaccompanied children at the border.
"It's more than a crisis. This is a human heartbreak," House Minority Leader Kevin McCarthy (R-Calif.) said last month during a border trip.
Doug Heye, former Republican National Committee communications director, described the border situation as a "hot potato" not just for Harris but for the Biden administration writ large.
"As we've seen in the past with the Trump administration, as those images come of people crossing the border, of families being separated, voters react very negatively to that. Trump fueled some of that by constantly having divisive rhetoric on immigration, but because Biden's rhetoric is nicer, those images don't change," Heye said.
Still, he surmised that Harris would not be the only target of Republicans unless it becomes more clear that Biden is unlikely to seek a second term, which he said recently that he intends to do.
"Otherwise it would be a bit like attacking Mike Pence three years ago," Heye said. "The vice president is not your target."
But Harris, who is 56, is expected to have longer term political ambitions even if Biden does seek a second term in the White House.
"If she ever decides to run for president again, how she handles this may very well be an issue that she'll have to wrestle with in her own campaign," the Democratic strategist said. "I'm sure she's managing it day to day with an eye to her political future."
Via The Hill