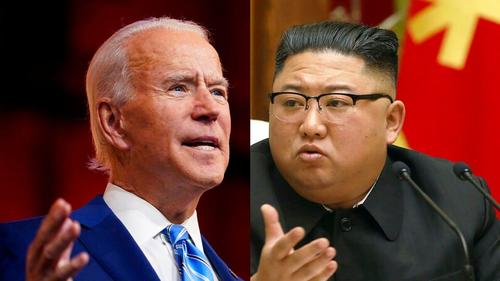 On Friday the Biden administration announced the completion of its major review of US policy toward North Korea, which revealed deep White House pessimism toward prior Trump efforts to strike a "grand bargain" with Pyongyang to persuade it to abandon its nuke program.
Commenting on how "limited" the Biden admin sees its path forward with Kim Jong Un on this front, White House press secretary Jen Psaki said Friday, "Our goal remains the complete de-nuclearization of the Korean Peninsula with a clear understanding that the efforts of the past four administrations have not achieved this objective."
Psaki further said to reporters while traveling aboard Air Force One that "Our policy will not focus on achieving a grand bargain, nor will it rely on strategic patience," and further emphasized Biden will take a "practical approach" looking for diplomatic openings with the North based on "practical progress".
The Washington Post summarized the Biden strategy based on the policy review as seeking to strike "a balance between President Donald Trump's grand-bargain, leader-to-leader diplomacy and President Barack Obama's arm's-length approach to the crisis," according to an admin official.
Ironically enough, to gain insight into the only team that ever made diplomatic "progress" on a "practical" level with the Kim regime, the Biden administration has been consulting Trump officials, as The Associated Press notes:
Biden administration officials have been consulting with Trump administration officials who took part in the Singapore talks between Kim and Trump in June 2018 as well as a second meeting in February 2019.

The last face-to-face talks between senior officials from the two countries were held in Sweden in October 2019, and efforts by the Biden administration to resume a dialogue have been rebuffed.
All of this appears to essentially translate to something like… we don't actually have a path forward but we don't want Trump's path.
The plan is to offer sanctions relief for "particular steps" with the ultimate goal of full denuclearization, said a US official. "If the Trump administration was everything for everything, Obama was nothing for nothing. This is something in the middle." 4/

— John Hudson (@John_Hudson) April 30, 2021
Meanwhile, officials in Seoul see things differently after the multiple historic breakthrough face-to-face summits under Trump…
The message is clear; in a nutshell, "don't mess up the advancements former President Trump made with North Korea" https://t.co/DiKZ2mrOZ4

— Sean Hannity (@seanhannity) April 25, 2021
Perhaps we're simply about to witness a few years of Kamala Harris getting on the phone with Korean officials, as has been the case with other world leaders in the opening months of Harris Biden foreign policy messaging.
And in the meantime the North will no doubt keep up its pressure and leverage in the form of ever bigger ballistic missile tests and accompanying bellicose threats.
Via Zero Hedge