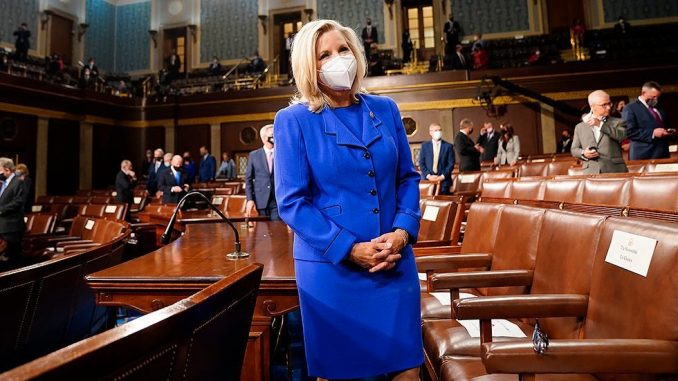 Liz Cheney said that Kevin McCarthy and Mitch McConnell — not Donald Trump — are the leaders of the Republican party. At a GOP gathering focused on policy, she said she's not ruling out a future bid for the White House.
And on national television, the Wyoming Republican walked a few paces to give a fist bump to the new Democratic president, Joe Biden, before his first address to Congress.
It was a big, headline-grabbing week for Cheney, the House GOP Conference chair and highest-ranking Republican woman in Congress, who in a few short months has made herself the face of the anti-Trump wing of the Republican Party.
And it's put an even bigger target on her back as the former president seeks retribution and vows to back a primary challenge to her next year while he fights to maintain an iron grip on the party.
Some pro-Trump Republicans say 2022 is too long to wait to oust Cheney, who demonstrated this week she will not be silenced.
Three months ago, Cheney easily survived an attempt by Trump loyalists to force her off the House leadership team for voting to impeach Trump.
Now, some of those GOP colleagues who rallied to her defense in that 145-61 vote are saying it's time for her to go and that it's only a matter of time before Cheney is pushed out of leadership.
"It's at a boiling point. This isn't about Liz Cheney wanting to impeach Donald Trump; this isn't about Donald Trump at all. It's about Liz Cheney being completely out of synch with the majority of our conference," said one GOP lawmaker, who said Cheney's antics this week were the focus of a flurry of text messages with House colleagues.
"As we're focused on unifying the Republican conference and our mission to win back the majority, she is focused on the past and proving a point," the lawmaker told The Hill. "She is alienating herself from the conference, and I have to imagine if she doesn't resign there will be a new vote in the near future and the result will be lopsided in the opposite direction of what it was before."
"She may go down in a second vote," added a second GOP lawmaker, who had voted in February to keep Cheney in her leadership post.
On Saturday, Rep. Lance Gooden (R-Texas) tweeted that Cheney would be out by the end of May: "Liz Cheney has promised she will campaign on impeaching Trump 'every day of the week.' Good luck with that, Liz!
"PREDICTION: she'll be out of her GOP leadership role by month's end!"
Liz Cheney has promised she will campaign on impeaching Trump 'every day of the week.'

Good luck with that, Liz!

PREDICTION: she'll be out of her GOP leadership role by month's end!

— Lance Gooden (@Lancegooden) May 1, 2021
Cheney, the daughter of former Vice President Dick Cheney, has been unapologetic. After Republicans lost the White House in 2020, Liz Cheney, a defense hawk like her father and a former State Department official, urged her party to ditch Trump and return to traditional GOP principles like a muscular foreign policy and fiscal discipline.
And she called Trump's efforts to overturn the election and his role in inciting the deadly Jan. 6 riot the greatest "betrayal by a president of the United States of his office and his oath to the Constitution."
Trump attacked Cheney this week as a "warmongering fool" and predicted she would soon announce her retirement from politics, which she dismissed this week as "wishful thinking."
"You can tell that she's trying to define the Republican party in the neo-conservative mold of the party," Sen. Cynthia Lummis, a fellow Wyoming Republican, told The Hill, "and that's a different type of Republican than I am, so it will be interesting to see how this all goes."
Through a spokesman, Cheney declined to be interviewed for this story.
Cheney allies, few as they may be now, are praising the 54-year-old mother of five, saying that she's one of the few voices in the party willing to call out Trump and hold him accountable for lying to his supporters that the 2020 presidential election was rigged and stolen.
"If a prerequisite for leading our conference is continuing to lie to our voters, then Liz is not the best fit," Rep. Anthony Gonzalez (R-Ohio), who also voted to impeach Trump, said in a phone interview Friday.
"Liz isn't going to lie to people. Liz is going to say what she believes. She's going to stand on principle. And if that's going to be distracting for folks, she's not the best fit. I wish that weren't the case."
If her foes force another vote, Gonzalez said he will support Cheney again.
Another Cheney ally argued that having her view at the leadership table actually makes the party stronger and proves that it's a big tent.
"Does Cheney's stubborn insistence to stick with her conviction rub some of us wrong? Yes. But I sure wish McCarthy realizes that it benefits us in the long run if we have one member of our leadership team who won't kiss Trump's ass," the second Cheney ally said. "It's good for the Republican party."
But Cheney's eyebrow-raising moves this week at the GOP policy meeting in Florida sparked frustration and hand wringing among other colleagues. Many saw her press conferences and media interviews that launched stories about the GOP's sharp divisions over Trump as self-serving and a distraction from their efforts to unite behind a policy agenda that will help them win back majorities in the House and Senate next year.
At the opening news conference in Orlando, Cheney broke with McCarthy and his leadership team over who the central leader of the party was — not Trump, according to Cheney — and over the scope of an independent commission to probe the Jan. 6 attack.
That put three other members of the leadership team who appeared with Cheney that day — Reps. Mike Johnson (R-La.), Richard Hudson (R-N.C.) and Drew Ferguson (R-Ga.) — in an awkward spot, lawmakers said.
Attendees also said Cheney wasn't very visible at the gathering, after she made a splash at her press conference. The No. 3 GOP leader didn't speak at a meeting where McCarthy and Minority Whip Steve Scalise (R-La.) gave a leadership update to rank-and-file members, and skipped out on a dinner with guest speaker Ben Shapiro, members said.
"She was missing in action," said the first GOP lawmaker.
It's unclear if she would be able to survive another challenge to her leadership job, given the escalating rhetoric from Trump and her deteriorating relationship with McCarthy, who has tied his star to the 45th president in his lifelong quest to be Speaker.
The GOP leader had, to the surprise of some, rushed to her defense three months ago when Trump acolytes tried to purge her from leadership. In a bid to unify warring anti- and pro-Trump factions of his party, McCarthy urged his members to stick with Cheney and not to boot first-term Rep. Marjorie Taylor Greene (R-Ga.) off her committees over dangerous social media posts that supported violence against top Democrats.
But in Orlando this week, McCarthy took a couple jabs at Cheney, declining to say whether he viewed her as a "good fit" for his leadership team and suggesting that she was "not being productive" by focusing on issues other than policy.
"The larger question is why McCarthy ever stuck his neck out for her in the first place — he's the reason she's still in that position," said a GOP source familiar with conference dynamics. "But I think Trumpworld is pissed and that's why there has been a noticeable change in his willingness to criticize her publicly."
McCarthy's office did not respond to a request for comment about whether he would publicly back Cheney if a second, secret-ballot vote was called. But several lawmakers predicted he would not stand by her this time, especially as some of his members are being pressured by donors, county GOP chairmen and grassroots activists to dump Cheney.
So far, no one has publicly stated they will push for a second vote on Cheney's future. Rep. Matt Gaetz (R-Fla.), the Trump ally who led the charge against Cheney in February, is being investigated by the FBI for sex trafficking.
After exposing GOP divisions in Orlando, Cheney generated even more outrage on the right after she was spotted fist-bumping Biden as he walked down the center aisle of the House chamber to deliver his address to Congress.
Cheney responded to her critics that she would always be respectful to a president from the other party. "We're not sworn enemies; we're Americans," tweeted Cheney, whose family has known the Bidens for decades.
But to Trump's most fervent loyalists, the fist bump seen around the world was symbolic of the D.C. swamp, and the GOP establishment's coziness with a Democrat who has spent nearly half a century in Washington.
Cheney's "first fist bump to Joe Biden was when she voted to impeach President Trump. That pictured fist bump is just the one that made it public," Greene told The Hill in an email. "The Republican Conference is extremely disconnected from Republican voters, and no that does not include Republican strategists, consultants, and mega donors. The GOP conference works for Washington, not the people."
Via The Hill