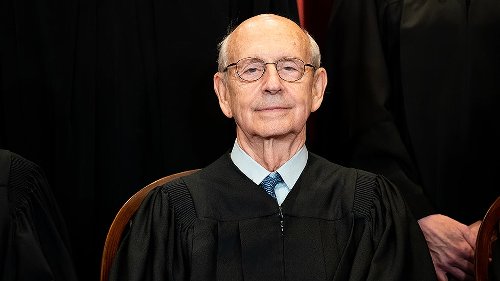 The possibility of Justice
Stephen Breyer
's imminent retirement is hanging over the Supreme Court as the current term enters its final weeks and Democrats cling to the slimmest of Senate majorities.
With the death of liberal stalwart Justice Ruth Bader Ginsburg still resonant, a number of court watchers expect that Breyer, 82, will announce his departure this summer, clearing the way for President Biden and Senate Democrats to fill his seat.
"I'm sure Breyer realizes what a blow Justice Ginsburg's non-retirement was to the possibility of ever having an even mildly progressive Court in our lifetime. And that describes Breyer — mildly progressive," said Dan Kobil, a law professor at Capital University. "So I think he would not want to double down on what many view as her miscalculation."
For his part, Breyer has said little in public about the prospect of his retirement. In an interview with Axios last year, the Clinton nominee said obliquely that factors like who the president is and the ideological makeup of the court were "not totally irrelevant" as justices weigh when to leave the bench.
Over the last 50 years, Supreme Court justices have tended to step down when the White House is held by the same party as the president who appointed them, a dynamic some legal scholars refer to as a "strategic retirement."
If Breyer plans to follow the modern trend, the politics are favorable now — though just barely, with Democrats' 50-50 control of the Senate hinging on Vice President Harris's tie-breaking vote.
Erwin Chemerinsky, dean of the University of California, Berkeley, School of Law, said he believes Breyer should retire in coming months while Democrats still have the power to confirm his replacement.
"If one Democrat leaves for whatever reason, the Democrats could lose the Senate," Chemerinsky said in an interview with The Hill. "For Breyer to have someone with his values and views replace him, retiring this summer could be crucial. If the Republicans take the Senate, they will not confirm a Biden nominee."
If Breyer were to step down soon, his retirement would bookend a term that began with the addition of Justice Amy Coney Barrett. Republicans fast-tracked her confirmation a little more than a month after Ginsburg's death and about a week before the 2020 election, cementing a 6-3 conservative majority on the court.
Court watchers fumed over Ginsburg's refusal to retire during Obama's presidency when Democrats held both the White House and, for a time, the Senate. Instead, she remained on the bench until her death created a third Supreme Court vacancy for former President Trump to fill.
A week after Ginsburg succumbed to cancer in September, The New York Times reported that Obama had taken subtle steps to encourage her to retire in 2013, just before Democrats lost control of the Senate to Republicans in the 2014 midterm elections.
Conservative Justice Antonin Scalia died in 2016, but the GOP-controlled Senate refused to hold a vote or a hearing on Obama's nominee to replace him, Merrick Garland. The GOP Senate then did confirm Trump's chosen nominee.
The Biden administration said earlier this month that the president seeks no influence over Breyer's decision, even as the justice faces mounting pressure from progressive groups to step down.
"He believes that's a decision Justice Breyer will make when he decides it's time to no longer serve on the Supreme Court," White House press secretary Jen Psaki told reporters, adding that she was not aware of any conversations between the president and the justices since he entered the White House.
At the same time, Biden has made no secret of his desire to diversify the bench, having pledged during the 2020 campaign to nominate the first Black female Supreme Court justice. Many court watchers believe he will choose Ketanji Brown Jackson, a former Breyer clerk who is a federal district court judge in D.C. and is now Biden's nominee to the D.C. Circuit Court of Appeals.
If Jackson, 50, were ultimately seated on the Supreme Court, she would become the youngest member of a rejuvenated liberal wing that would count Justices Sonia Sotomayor, 66, and Elena Kagan, 61, as its oldest members.
Breyer is the court's oldest justice, born a decade before his next oldest colleague, Justice Clarence Thomas, 72, the court's most conservative member.
But unlike Ginsburg — who faced multiple bouts of cancer before finally succumbing to the disease — Breyer has had no known health scares, other than a shoulder fracture he sustained in a 2013 bicycle accident. And by all outward indications, Breyer still enjoys the job.
Some court watchers who spoke to The Hill think Breyer may remain on the court for another year. They note that he already hired a full set of clerks for next term, and barring some unforeseen circumstances, Democrats would still control the Senate in summer 2022.
"If Breyer thinks he can still do the job well and he enjoys it, why leave?" said Ben Johnson, a law professor at Penn State University. "It's every lawyer's dream gig!"
Others believe his departure is more imminent. Harvard Law professor Mark Tushnet said he expects Breyer to announce his retirement in coming months, putting the odds in the 70-percent range.
"If so, I'd assume that he'll make the decision in his own mind fairly soon, and might have done so already," he added, "then inform the White House roughly in early June, and release his letter to the president shortly after the term ends."
Brianne Gorod, a former Breyer clerk who now serves as chief counsel at the progressive nonprofit firm Constitutional Accountability Center, declined to offer a prediction on the possibility of Breyer's retirement, but said his legacy on American law is already visible.
"Justice Breyer believes deeply that our Constitution was adopted to establish a government that would work for the American people," she said, "and that belief shapes his approach to judging."
Via The Hill