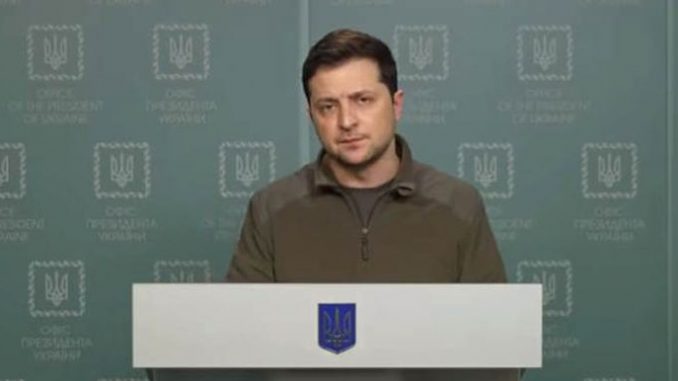 As I write this it's about 2:30 am in Kyiv. Just a couple of hours ago, President Zelensky made a speech warning that tonight Russia would make a big push to take Kyiv. He pointed to losses on both sides but made a special point of highlighting Russian missile strikes which killed Ukrainian children.
Our main goal is to end this slaughter. The enemy suffers very-very serious losses. These are hundreds, hundreds of killed soldiers who crossed our border, who came to our land.

We suffer losses as well, unfortunately. Ukrainians resist the aggression heroically. It is impossible to justify. Therefore, the invaders have to come up with more and more absurd accusations to say at least something…

In Vorzel, Kyiv region, they fired "Grads" at an orphanage. Okhtyrka, Sumy region, was shelled by "Uragans". Housing quarters, shelter, kindergartens were under the shelling. What is this war against Ukrainian children in a kindergarten? Who are they? Are they neo-Nazis from kindergarten as well? Or were they NATO soldiers that threatened Russia? Killed and injured children are the sentence to this invasion.
Zelensky is mocking Putin's assertion that Ukraine is run by neo-Nazis. In case you missed it, here's the most recent statement in which Putin made that claim.
"Don't let neo-Nazis & Banderites use your children, wives & parents as a human shield," Putin says.
I can't say he has his finger on the pulse of Ukrainian military personnel … pic.twitter.com/3qoFNi0iPc

— Alec Luhn (@ASLuhn) February 25, 2022
None of this is true, of course. Zelensky is Jewish, so calling him a Nazi is particularly stupid. One thing that I think has come across so far is that Zelensky, as a former TV host, is just better at this than Putin. But Putin's statement will run on state television where no one will question them while Zelensky's responses will not be shown. Toward the end of the speech, Zelensky predicted a big push from Russian forces overnight, one which could decide the fate of the country.
Europeans do not imagine yet what it is like to live when there is such a confrontation next to you. I have to say absolutely frankly: this night will be harder than a day. Many cities of our state are under attack. Chernihiv, Sumy, Kharkiv, our boys, our girls in Donbas, cities of the south of Ukraine. Kyiv requires special attention. We cannot lose the capital.

I appeal to our defenders on all frontlines. This night the enemy will use all the forces available to break our resistance. Treacherously, viciously, inhumanly. This night they will make an assault upon us. We all have to understand what we are going to face. This night we have to withstand. The fate of Ukraine is now being decided. Each civilian should be as careful as possible. Help, please, each other, especially elderly people, lonely, those for whom it is very difficult now. In case of any danger go to the shelter.

Everyone who has already joined the country's defense or can help defend, stop the enemy everywhere you can. Remove special signs that saboteurs leave on the roads and buildings. Burn the enemy's equipment with anything you can. If even kindergartens are a permissible target for invaders, you must not leave them any chance.
There's video of the full speech but without closed captions. Hopefully, Zelensky will still be in control of Kyiv in the morning.
Via        Hot Air