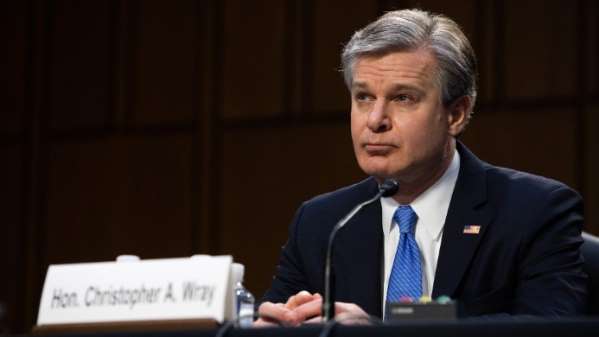 FBI Director Christopher Wray said Tuesday that the bureau has no evidence that far-left violent extremists were involved in the Jan. 6 attack on the U.S. Capitol.
"We have not to date seen any evidence of anarchist violent extremists or people subscribed to antifa in connection with the sixth," Wray told lawmakers on the Senate Judiciary Committee, using a term to refer to the left-wing anti-fascism movement.
"That doesn't mean we're not looking, and we'll continue to look, but at the moment we have not seen that."
The idea that "antifa," an umbrella term for far-left leaning groups, was responsible for the Jan. 6 Capitol breach has been floated repeatedly by former President Trump's allies.
Hours after the mob was cleared from the Capitol, Rep. Matt Gaetz (R-Fla.) claimed from the floor of the House that some members of the mob that breached the Capitol on Wednesday were members of antifa "masquerading as Trump supporters."
Rep. Jaime Herrera Beutler (R-Wash.) released a statement during Trump's impeachment trial that said when Rep. Kevin McCarthy (R-Calif.) "finally reached the president on January 6 and asked him to publicly and forcefully call off the riot, the president initially repeated the falsehood that it was antifa that had breached the Capitol."
The former president's lawyer also sought in his opening statement during the impeachment trial to point the finger, without evidence, at so-called antifa militants.
Republicans have also sought to point to last summer's racial justice demonstrations that sometimes turned violent to push back on Democrats' calls for the FBI to hone in on white nationalism and other far-right ideologies and argue the bureau needs to focus on a full range of extremists.
Sen. Charles Grassley (R-Iowa) brought up the issue in his opening statement at Tuesday's hearing.
"It's been a relatively frequent sight at the summer's violent events to see individuals acting in coordination, holding the "A" symbol of antifa," Grassley said, noting the protests in Portland.
"In light of these ever-present left-wing threats, I'm concerned about 'resource shifting' talk among Congressional Democrats….We must examine the issue of domestic terrorism broadly, to include the left and right wing of the political spectrum. No serious oversight activity and no serious policy decisions can be done without doing so."
Wray has resisted pressure from lawmakers to more narrowly focus on certain ideologies.
"We don't care what ideology motivates somebody," he said. "We don't care whether it's left, right, up, down, diagonal or any other way. If the ideology is motivating violence and violates federal law we're coming after it."
Via The Hill