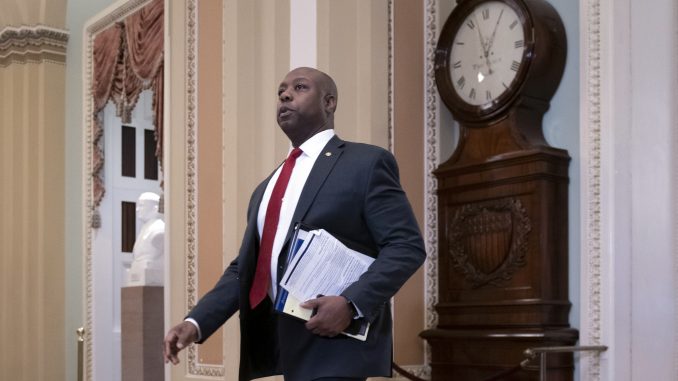 Former President Trump on Tuesday endorsed Sen. Tim Scott (R-S.C.) for reelection.
Scott, a first-term senator and the only Black Republican in the Senate, was at times critical of Trump's rhetoric on race.
But Scott also worked closely with Trump on a police reform bill that was blocked by Senate Democrats, and he routinely defended the former president's policies over the four years he was in office.
"It is my great honor to give Senator Tim Scott of South Carolina my complete and total endorsement," Trump said in a statement. "He is both an outstanding senator and person who works tirelessly for the people of his great state, and the USA. Strong on the military, law enforcement, loves our vets, protects our Second Amendment and our borders. Tim will continue to do an OUTSTANDING job for our country!"
Scott has said his second term will be his last. He is not expected to face a serious primary challenge, and he should cruise to reelection as a Republican running in a deep-red state.
Trump's endorsement is the latest sign he intends to be active in GOP politics going forward.
The former president's seal of approval is an enormous benefit for Republicans seeking office, both in terms of fundraising and in generating enthusiasm.
Trump has so far endorsed one primary challenger to a sitting Republican, backing former White House aide Max Miller, who is challenging Rep. Anthony Gonzalez (R-Ohio), who is one of 10 House Republicans who voted to impeach Trump.
Via The Hill