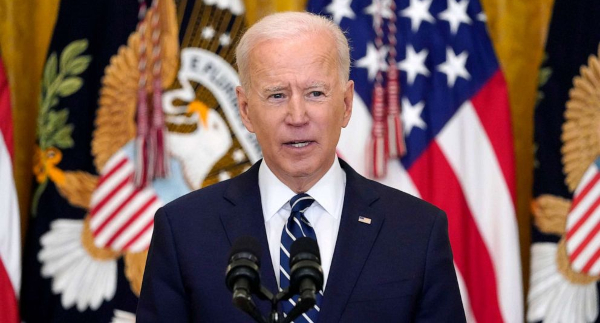 The White House Friday reversed course on refugee admissions, after an earlier announcement maintaining a controversial Trump-era refugee cap was met with disdain by Democrats and immigration activists.
Following a day of blowback from Democrats, White House Press Secretary Jen Psaki announced Biden would set a new, higher ceiling in May after initially saying it would keep the current 15,000 limit.
The initial decision had led to widespread complaints from Democratic lawmakers and groups representing refugees, who had already been urging Biden to lift the ceiling put in place by former President Trump.
Rep. Ilhan Omar (D-Minn.), who came to the United States as a refugee, called it "shameful."
Psaki's statement late Friday attempted to walk back the controversial announcement.
It said that Biden's directive earlier Friday had been the subject of "some confusion," and that while it would be difficult to meet Biden's goal of allowing 62,500 refugees into the country this year because of changes imposed by Trump, it would seek to announce a higher ceiling than 15,000 in May.
"For the past few weeks, he has been consulting with his advisors to determine what number of refugees could realistically be admitted to the United States between now and October 1. Given the decimated refugee admissions program we inherited, and burdens on the Office of Refugee Resettlement, his initial goal of 62,500 seems unlikely," Psaki said.
"While finalizing that determination, the President was urged to take immediate action to reverse the Trump policy that banned refugees from many key regions, to enable flights from those regions to begin within days; today's order did that," the statement continued. "With that done, we expect the President to set a final, increased refugee cap for the remainder of this fiscal year by May 15."
The reversal was initially well-received by Democrats critical of the refugee cap, but the White House's messaging blunder was not entirely overlooked.
"While I'm heartened to learn that  @POTUS still intends to increase the number of refugee admissions, I urge the admin. to move with urgency and communicate with clarity," wrote Rep. Verónica Escobar (D-Texas) on Twitter.
The earlier announcement was doubly vexing to Democrats, both because it maintained a controversial Trump-era policy, and because it caught key Capitol Hill allies off guard.
Omar, a former beneficiary of the refugee program, had sent a letter on the matter to Biden earlier Friday, lobbying for a raised refugee cap.
The chairman of the Senate Foreign Relations Committee, Sen. Bob Menendez (D-N.J.), was also blindsided by the White House announcement after sending his own written plea on the matter, which became a letter of rebuke after the administration's action.
"Failing to issue a new Determination undermines your declared purpose to reverse your predecessor's refugee policies and to rebuild the Refugee Admissions Program to a target of 125,000 people in FY22, and threatens U.S. leadership on forced migration," Menendez wrote.
Still, some Democrats celebrated the administration's flexibility after a day of intense friendly fire.
"Glad this decision was made, we are better country for it, it is a better administration because of it," said Rep. Ruben Gallego (D-Ariz.)
The White House has faced questions for weeks on when Biden would sign an order raising the refugee cap to fulfill a promise he made on the campaign trail. Biden has said he plans to raise the number of refugee admissions to 125,000 in his first full year in office.
The administration's whiplash on refugee numbers reflects a strained system, beset by aggressive cuts during the Trump administration and the sustained pressure of housing unaccompanied minors encountered at the southwest border.
Both the intake of global refugees and the care of those minors are entrusted to the Office of Refugee Resettlement (ORR), part of the Department of Health and Human Services.
ORR has exhausted its $1.3 billion budget for this year, according to reporting by the Wall Street Journal, in an effort to pay for housing for unaccompanied minors.
The agency's fiscal woes are likely to make impossible reaching Biden's earlier stated goal of impatriating 62,500 refugees in 2021. But Biden has requested a $4.3 billion ORR budget for 2022 with a goal of settling 125,000 refugees in that fiscal year.
Still, immigration advocates spent Friday perplexed on why Biden would proactively set a low bar at 15,000 refugees, rather than strive for the earlier set goal of 62,500 refugees.
Alex Nowrasteh, director of immigration studies at the Cato Institute, ascribed the attitude to "political fear given the border crisis and the desire to start things off small so the refugee agencies have a chance to get restarted."
Via The Hill