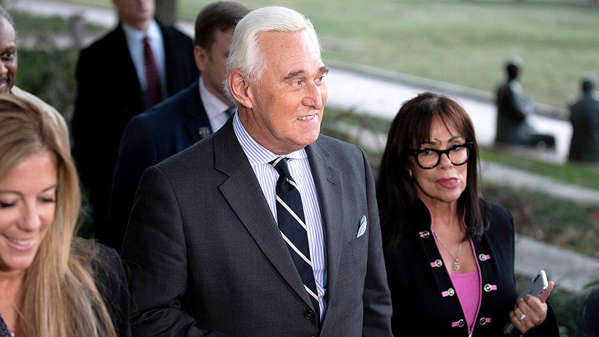 The Department of Justice filed a civil lawsuit on Friday against Roger Stone, the longtime GOP political operative and ally to former President Trump, accusing him of owing the government about $2 million in unpaid federal income taxes.
The lawsuit comes nearly four months after Trump pardoned Stone following his conviction on charges of lying to Congress and witness tampering.
In a federal district court in Florida, the Justice Department alleged Friday that Stone and his wife Nydia used a limited liability corporation called Drake Ventures to "receive payments that are payable to Roger Stone personally, pay their personal expenses, shield their assets, and avoid reporting taxable income to the IRS."
"Although they used funds held in Drake Ventures accounts to pay some of their taxes, the Stones' use of Drake Ventures to hold their funds allowed them to shield their personal income from enforced collection and fund a lavish lifestyle despite owing nearly $2 million in unpaid taxes, interest and penalties," the lawsuit reads.
The Justice Department alleges that after Stone was criminally charged in January 2019, he and his wife used Drake Venture funds to purchase their home in Broward County, Fla., and registered it under another entity. According to the lawsuit, the couple was in "substantial debt" to the IRS at the time of purchase.
There is currently no attorney listed for Stone in the case. A lawyer who has represented him in the past did not immediately respond when asked for comment.
A federal jury convicted Stone in 2019 on seven counts that were brought by prosecutors with the former special counsel Robert Mueller. Stone was later sentenced to more than three years in prison.
Trump commuted the longtime GOP operative's sentence last July, just days before Stone was set to report to prison. Trump granted him a full pardon in December.
Via The Hill