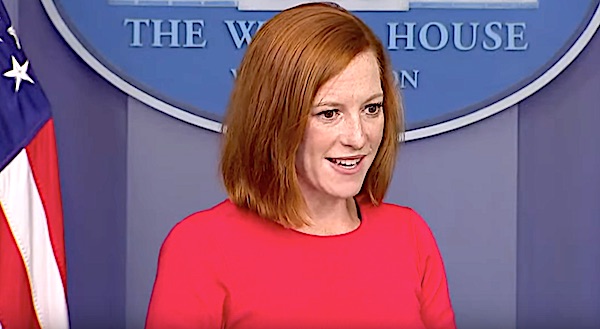 Jen Psaki, the White House press secretary for Joe Biden, is getting some extra attention on the internet after she called COVID-19 a "global plandemic" with the letter L, instead of pandemic.
Her remark came during a press briefing Aug. 25, as she answered a question about Biden's meeting with Israeli Prime Minister Naftali Bennett.
"The president's looking forward to welcoming the prime minister who's already in town, as you know, having a variety of meetings today," Psaki began.
"We expect their conversation to be wide-ranging, to cover a range of topics of mutual interest – everything from COVID-19 and our efforts to address the global plandemic to regional security issues which could include a range of topics including security within Israel as well as, you know, Iran and other issues of mutual concern."
Watch Jen Psaki say "global plandemic" at the 39:00 minute mark:
The official White House transcript of the news conference does not reflect what Psaki actually voiced, but printed her remarks as "global pandemic" instead of "global plandemic."
"The quote is crystal clear," noted the National File, adding, "'Plandemic' was the name of a viral but heavily-censored film in 2020 starring whistleblower Dr. Judy Mikovits, which helped to wake people up to the coronavirus scam."