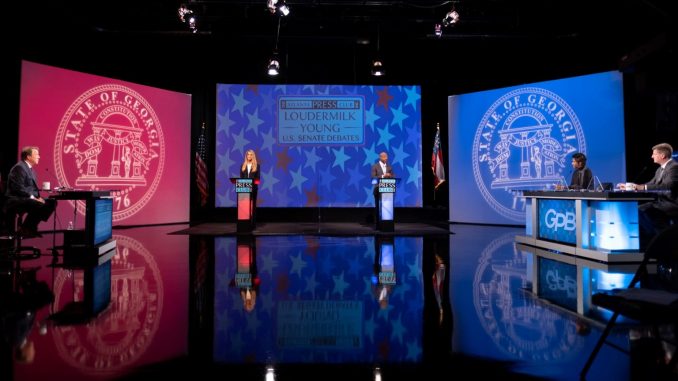 Two Georgia Senate candidates faced each other Sunday evening in the first debate of the runoff contest. Republican incumbent Kelly Loeffler — who was appointed by Governor Brian Kemp to fill the vacant seat left by former GOP senator Johnny Isakson until the special election — is facing a challenge from Democratic candidate Raphael Warnock.
In the November 3 election, neither Warnock nor Loeffler managed to reach 50 percent of the vote, sending the contest to a January 5 runoff, one of two Senate runoffs in Georgia this election cycle; Warnock finished ahead of Loeffler with 33 percent to her 26 percent.
The other race features first-term incumbent Republican senator David Perdue defending his seat against Democrat Jon Ossoff, who trailed Perdue by about 86,000 votes in the November 3 election — though Perdue failed to reach the necessary 50-percent support to lock down his seat.
During the debate, Warnock refused to answer a couple of big questions that have arisen thus far in the campaign about his past comments and his promised platform. Loeffler repeatedly returned to calling Warnock a "radical liberal," and the Democrat didn't take the many chances he was given to refute that claim.
Asked whether he was present when the Harlem church at which he served as youth pastor hosted Fidel Castro, Warnock refused to reply. He also repeatedly dodged questions about whether he'd vote to expand the number of justices on the Supreme Court, a strange evasion considering that such a vote would be highly unlikely to arise at all with such a slim margin in the Senate. Instead of giving a straightforward reply, Warnock said he wasn't focused on the issue and wasn't hearing about it from Georgians.
Pressed for answers on his strategy for responding to the COVID-19 pandemic, Warnock came across as uncertain, and when Loeffler accused him of sympathizing with Marxism and favoring socialist policies, he insisted that she was using the question as an attempt to "distract from her record." He also failed to clarify whether he supports policies such as those that Black Lives Matter activists call a "roadmap to abolish prisons."
Though Loeffler herself came across more than a little robotic when delivering her responses and questions, Warnock failed to separate himself from some of the more-effective talking points that have emerged against him so far during the runoff.
Meanwhile, in the other Senate race, because Perdue declined to debate Ossoff this evening, the Democrat appeared on stage by himself and took media questions. Unsurprisingly, it gave him an opportunity to offer a series of rote talking points that went essentially unchallenged, an obvious risk of Perdue's choice not to participate.
Most recent polling of the races in Georgia suggest that both will be fairly close, though given how inaccurate much of the polling of the November general election turned out to be, it's worth considering these new surveys with some caution.
This past week, a poll from PoliticalIQ found that a plurality of Georgia voters would prefer the GOP to maintain control of the Senate and serve as a check on the incoming Democratic White House and the Democratic House of Representatives. Another poll, from SurveyUSA, showed the two Democratic candidates leading their GOP opponents, but it surveyed a wide variety of Georgia residents, including several hundred who did not classify themselves as likely voters.
Just a few days ago, Trafalgar Group — a polling company that attempts to weight what founder Robert Cahaly terms "shy, pro-Trump" voters — released a survey of more than 1,000 likely voters in Georgia that found Loeffler leading Warnock by 5 percent and Ossoff leading Perdue by just 1 percent.
Via National Review