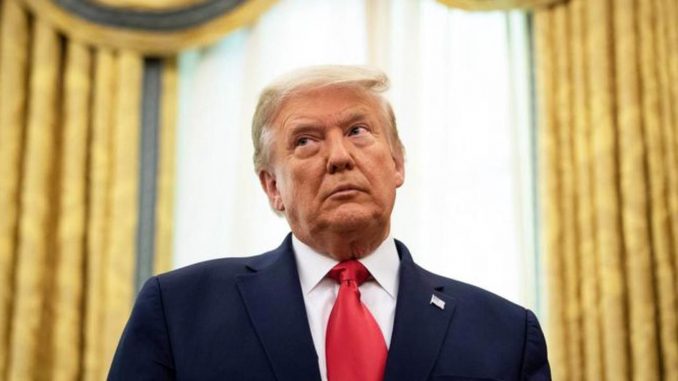 Former President Trump on Wednesday denied that Rep. Matt Gaetz (R-Fla.) directly asked him for a blanket pardon, and appeared to defend the congressman amid allegations of sexual misconduct.
"Congressman Matt Gaetz has never asked me for a pardon," Trump said in a statement. "It must also be remembered that he has totally denied the accusations against him."
The New York Times reported on Tuesday that Gaetz asked White House officials for blanket preemptive pardons for himself and other congressional allies of Trump. The Times noted that it was not clear whether Gaetz directly addressed the matter with Trump, though aides were said to have relayed the request.
Gaetz — one of the former president's most vocal allies in Congress  — is reportedly the subject of a Department of Justice (DOJ) investigation into an alleged inappropriate relationship with a minor and a possible violation of sex trafficking laws.
Gaetz has vehemently denied he had a sexual relationship with a 17-year-old girl, stating during an interview with Fox News's Tucker Carlson that he is being accused of having a relationship with a teenager that "does not exist."
The New York Times, which first reported the DOJ investigation, subsequently reported accusations that Gaetz and a former Florida county tax collector, Joel Greenberg, paid multiple women who were recruited for sex online.
The allegations have prompted calls for Gaetz to resign, though Republicans have remained largely silent on the matter. Trump is the highest profile figure to offer some cover for Gaetz.
Prior to news of the investigation, the Florida lawmaker was said to be contemplating retiring from Congress for a media job.
In a text exchange with The Hill last week, the Florida Republican said rumors he plans to resign from his office are "false" and it is "very safe" to say he doesn't have any intention to do so.
Gaetz has appeared regularly on cable television to praise Trump, and he was among the most prominent conservative voices pushing back on each of Trump's impeachments.
Trump was reportedly mulling preemptive pardons for a number of allies in the waning weeks of his presidency, including his adult children, Rudy Giuliani and even himself. But he ultimately opted against doling out any preemptive pardons, though he did grant clemency to a number of political allies, including Stephen Bannon and former Reps. Chris Collins (R-N.Y.) and Duncan Hunter (R-Calif.).
Via The Hill