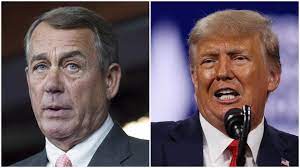 Former Speaker John Boehner (R-Ohio) is blaming former President Trump for the deadly Jan. 6 rioting at the U.S. Capitol, saying he riled the crowd to commit violent acts for "selfish" political reasons.
"Whatever they end up doing, or not doing, none of it will compare to one of the lowest points of American democracy that we lived through in January 2021," Boehner wrote in a new book set to be published this month, excerpts of which were obtained by The New York Times.
The former Speaker also wrote that Trump "incited that bloody insurrection for nothing more than selfish reasons, perpetuated by the bullshit he'd been shoveling since he lost a fair election the previous November."
Boehner said it was "painful" for him to watch what unfolded at the Capitol on Jan. 6 and the incident "should have been a wake-up call for a return to Republican sanity."
The former Speaker wrote Trump's refusal to accept the result of the 2020 presidential election "not only cost Republicans the Senate but led to mob violence."
"I'll admit I wasn't prepared for what came after the election — Trump refusing to accept the results and stoking the flames of conspiracy that turned into violence in the seat of our democracy, the building over which I once presided," Boehner wrote.
In a statement to the Times, Trump called Boehner a RINO — short for "Republican in name only" — and suggested he was drunk when he was writing his book. In teasing his audiobook release earlier this year, Boehner, a well-documented wine connoisseur, posted a photograph of him drinking merlot while recording.
"Was he drinking when he made this statement?" Trump, who does not drink, asked. "Just another RINO who couldn't do the job!"
In an essay adapted from his book that was published Friday by Politico Magazine, Boehner defended former President Obama from criticism that he didn't work hard enough to reach bipartisan consensus with Republicans during his time in office.
"How do you find common cause with people who think you are a secret Kenyan Muslim traitor?" the former Speaker asked.
Boehner also attacked leading members of the Tea Party, who he has referred to as "legislative terrorists" and Fox News for peddling what he called false outrage and stoking political divisions on the right.
"Some of the people involved did not surprise me in the least," Boehner said of Jan. 6 and the ensuing rhetoric from Republicans around election security and the Capitol riot. "The legislative terrorism that I'd witnessed as Speaker had now encouraged actual terrorism."
Via The Hill