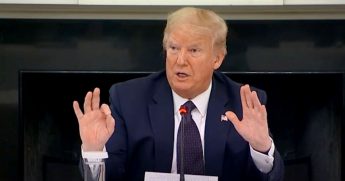 Like other key battleground states, Nevada has already completed the process of certifying its final vote count, with state election officials insisting that the state's vote was carried out lawfully and without issue. However, that hasn't stopped Trump's legal team from probing and making sure that nothing fraudulent took place.
"Certification by state officials is simply a procedural step," Trump attorney Jenna Ellis said. "We are going to continue combatting election fraud around the country as we fight to count all the legal votes. Americans must be assured that the final results are fair and legitimate."
According to the Washington Examiner, that's not the only thing happening in the state of Nevada. Trump's announcement in his tweet comes on the heels of a Nevada Supreme Court judge agreeing to allow Trump's legal team to present evidence that voter fraud took place in the state.
The hearing is set for December 3 and the judge has allowed for 15 depositions during the hearing.
That news was tweeted out by Trump's chief of staff, Mark Meadows, on November 24.
"BIG news in Nevada: a Judge has allowed NV Republicans to present findings of widespread voter fraud in a Dec. 3rd hearing. Americans will now hear evidence from those who saw firsthand what happened—a critical step for transparency and remedying illegal ballots. Stay tuned," Meadows tweeted.
The Nevada judge's ruling was a marked victory for Trump's legal team, something they've fallen short on in their dozens of attempts to request similar opportunities in other states. But if you were unaware of it, it's certainly not your fault, as the mainstream media — including many Fox News hosts — are complicit in a virtual blackout of anything positive surrounding Trump's legal efforts.