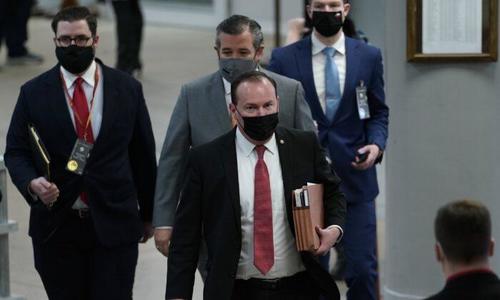 Several Republican senators joined calls to end Major League Baseball's (MLB) antitrust exemption after it pulled the 2021 All-Star Game out of Atlanta, Georgia, saying that it was because of the recent voter integrity bill that has been lambasted by other major corporations and Democratic officials.
MLB announced the decision to move the game on April 2, saying it would do to protest against the voting law that it claimed would restrict the ability of people to vote. Republicans, in criticizing the MLB and other major corporations, have accused them of bowing to Democratic-led and celebrity-led pressure. Democrats, without providing evidence, have said the new laws will make it harder for African-American voters to cast their ballots.
The measure, which was passed last month and signed into law by Georgia's governor, implements identification requirements for mail-in ballots and places restrictions on the number of drop boxes across the state.
"Why does @MLB still have antitrust immunity? It's time for the federal government to stop granting special privileges to specific, favored corporations – especially those that punish their political opponents," Sen. Mike Lee (R-Utah) wrote on Twitter.
Added Sen. Ted Cruz (R-Texas):
"EXACTLY right. And @SenMikeLee & I will be working hard to END MLB's antitrust immunity," accusing the organization of becoming "woke," a pejorative used by conservatives to describe left-wing activism that focuses on identity politics while using censorship and pressure campaigns to silence opposing viewpoints.
Later on April 2, Cruz posted a link to MLB's corporate sponsors, which Cruz said pressured the league "to pull the All Star game out of Atlanta. Do all of them oppose voter ID? Are all of them willing to be the woke enforcers of the corrupt Democratic Party? And do all hate the 75m who voted for Trump?"
"Why are we still listening to these woke corporate hypocrites on taxes, regulations & anti-trust?" Sen. Marco Rubio (R-Fla.) wrote.
Meanwhile, Chinese state media reported on April 1 that MLB will continue to be aired on the streaming platform operated by Chinese tech giant Tencent, which has significant ties to the Chinese Communist Party (CCP). Tencent is one of the Chinese companies that had temporarily dropped NBA games as a form of censorship after former Houston Rockets general manager Daryl Morey spoke out in support of the pro-democracy protests in Hong Kong.
MLB Commissioner Rob Manfred defended the move to pull the game out.
"Major League Baseball fundamentally supports voting rights for all Americans and opposes restrictions to the ballot box," he added, saying it is "the best way to demonstrate our values as a sport."
But Gov. Brian Kemp, a Republican, said that Democrats and corporations have deliberately mischaracterized the law.
"Here's the truth," Kemp said in a statement last week.

The measure "expands access to voting, secures ballot drop boxes around the clock in every county, expands weekend voting, protects no-excuse absentee voting. It levels the playing field on voter I.D. requirements as well as streamlining election procedures," Kemp said.
Kemp said that Democrats, meanwhile, have spread misinformation about a provision that would not allow groups to give voters waiting in line water.
Kemp said that it is just political organizations and "anyone else" who are not allowed to "harass or electioneer voters who are waiting in line to vote, within the 150-foot buffer."
Via Zero Hedge