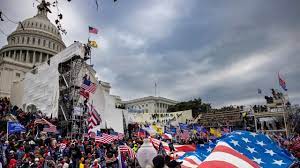 Michigan Republican Party Chairman Ron Weiser made a reference to "assassination" during a conversation about GOP lawmakers who voted to impeach former President Trump at a Republican club meeting.
Weiser was caught making the comments in a video during a North Oakland Republican Club meeting obtained by The Detroit News.
The remark came up during a discussion on how to oust Republican Reps. Fred Upton and Peter Meijer, who voted for Trump's impeachment after the Capitol riot.
It occurred after Weiser described three Democratic officials, including Gov. Gretchen Whitmer, as "the three witches."
After Weiser made that reference, a person at the meeting asked Weiser how to oust "witches in our own party," to which Weiser responded that people needed to get out and vote.
"Ma'am, other than assassination, I have no other way … other than voting out. OK?" said Weiser. "You people have to go out there and support their opponents. You have to do what you need to get out the vote in those areas. That's how you beat people."
The remarks come just more than two months after a pro-Trump mob attacked the Capitol, forcing the evacuation of lawmakers. A Capitol Police officer was killed in the fighting, and members of the mob were heard calling for the hanging of then-Vice President Mike Pence.
"Chairman Weiser and our executive director, Jason Roe, both made very clear that it is up to the voters to determine the nominees of the Republican Party, and to suggest anything else is dishonest and irresponsible," said Ted Goodman, communications director of the Michigan Republican Party.
"This is a distraction from the Governor's failed response to the pandemic that ruined tens of thousands of small businesses, destroyed our school children's education and resulted in unnecessary deaths inside nursing homes."
Weiser's remark about the three witches was in reference to Whitmer, Attorney General Dana Nessel and Secretary of State Jocelyn Benson.
Ten Republicans in the House voted to impeach Trump, and seven Republicans in the Senate voted to convict the former president for inciting the riot at the Capitol.
Via The Hill