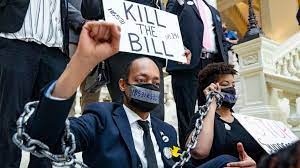 Voting rights groups on Thursday night filed a lawsuit just hours after Georgia enacted a Republican-crafted law that gives state lawmakers more power over elections and imposes a raft of new voting restrictions.
The 35-page complaint filed in federal court in Atlanta alleges that minority voters will be hit especially hard by the new legislation, which plaintiffs say illegally suppresses voters' rights in violation of constitutional protections and the 1965 Voting Rights Act.
According to the lawsuit, the new restrictions are "clearly intended to and will have the effect of making it harder for lawful Georgia voters to participate in the State's elections," adding that the measure will impose "unjustifiable burdens" that disproportionately impact people of color, as well as young, poor and disabled voters.
The lawsuit was filed shortly after Gov. Brian Kemp (R) signed a sweeping elections bill into law, tightening voting rules in the Peach State by limiting the use of ballot drop boxes and setting photo ID requirements for absentee voting, among other restrictions.
The GOP-controlled state General Assembly gave final approval to the measure in a party-line vote Thursday.
Democrats notched crucial victories in recent Georgia races, both in 2020 and earlier this year. The state sent two Democratic senators to Washington after a pair of January runoff elections handed Democrats a razor-thin majority in the Senate. In November, President Biden became the first Democratic presidential candidate to win Georgia since former President Clinton in 1992.
The new Georgia voting law is among dozens of measures being considered by state legislatures across the country after former President Trump lied repeatedly about the 2020 presidential election being stolen through widespread voter fraud, a claim that is not supported by evidence.
The lawsuit was filed by voting rights groups New Georgia Project, Black Voters Matter Fund and Rise, Inc., and is backed by Democratic lawyer Marc Elias.
Via The Hill