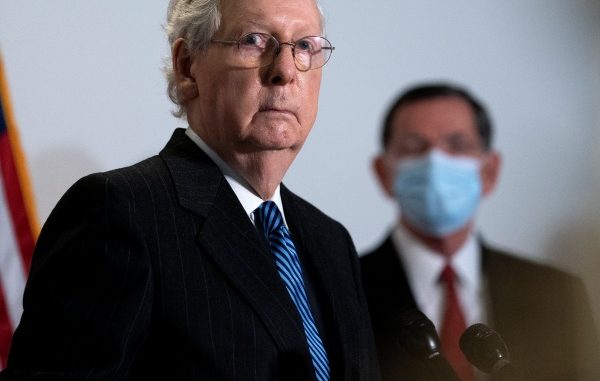 Senate Majority Leader Mitch McConnell during a private call with GOP lawmakers in the upper chamber Thursday morning said his vote on Jan. 6 to certify Joe Biden's election victory will be "the most consequential I have ever cast," according to two sources who spoke with Axios.
McConnell also said the vote is "a vote of conscience."
The sources who spoke with Axios were on the call. They said the Kentucky senator also asked what Sen. Josh Hawley, R-Mo., planned to do on Jan. 6 when he contests the results of the election.
"The context was McConnell saying we're being asked to overturn the results after a guy didn't get as many electoral votes and lost by 7 million popular votes," the source said.
Hawley is the only senator who has publicly committed to challenging the results, an effort led by incoming Rep-elect Marjory Taylor-Greene of Georgia and Rep. Mo Brooks of Alabama, both Republicans.
Once an objection is filed each chamber would have to debate for two hours and then vote on whether to disqualify a state's votes. Both chambers would then have to agree to disqualify the state's votes, an outcome that is nearly impossible.
Hawley on Wednesday said he couldn't vote to certify "without pointing out the unprecedented effort of mega corporations, including Facebook and Twitter, to interfere in this election, in support of Joe Biden. At the very least, Congress should investigate allegations of voter fraud and adopt measures to secure the integrity of our elections. But Congress has so far failed to act," Hawley added.
Via Newsmax