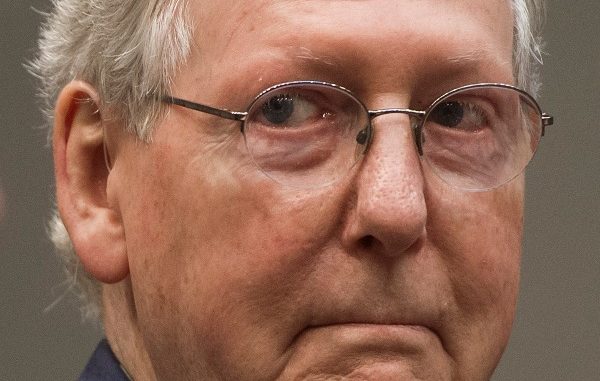 Senate Majority Leader Mitch McConnell on Tuesday acknowledged Joe Biden as "president-elect" for the first time since the election early last month.
But before he spoke the title and delivered his congratulations to Biden, he called the White House to announce his intention, Axios reports, citing two sources familiar with the call.
Said Axios, McConnell didn't speak to President Donald Trump, but rather to Trump chief of staff Mark Meadows.
Until this point, McConnell has held his tongue on the matter, and on the challenges Trump's legal team has filed with various courts alleging massive voter fraud.
There was likely a political strategy behind the silence, Axios' article speculated. The Kentucky Republican, whose wife, Elaine Chao, is in Trump's cabinet, likely still hopes for the president's backing on various must-pass legislation before leaving office.
Further, McConnell needs Trump voters to turn out for the Republican candidates in next month's pivotal runoffs in Georgia. The GOP aims for two wins there, hoping to avoid a 50-50 split with Democrats that would cast Vice President Kamala Harris as the tie-breaking vote in the senior chamber.
The White House didn't immediately respond to Axios' request for comment on McConnell's call, while a spokesperson for the senior Republican lawmaker declined comment.
McConnell has taken heat for bestowing the title president-elect on Biden, with many Trump supporters calling him a turncoat and RINO — Republican in name only. He drew still more ire amid reports he had told his fellow GOP senators to put party ahead of Trump's still-ongoing challenges and not contest the official count of the Electoral College votes by Congress on Jan. 6. His concern is that such a move would help trigger a divisive spectacle and intensify party rifts.
Rep. Mo Brooks of Alabama is already planning to contest the Electoral College tallies certified on Monday in Biden's favor.
Brooks, 66, dismissed McConnell's statement earlier in the day that the Electoral College settled the matter and offering his congratulations to Biden on his election.
"It's exactly what you'd expect from Senator McConnell," the five-term Republican said, declining to elaborate. "Senator McConnell is not the key to this. The key are the American voters."
A senator must follow Brooks' example to trigger further action, though even then, the action to disrupt the election outcome faces major hurdles.
Any objection to Biden's election wouldn't stand in the Democratic-controlled House, and enough GOP senators have indicated they won't go along to block the move in the Senate.
Via Newsmax