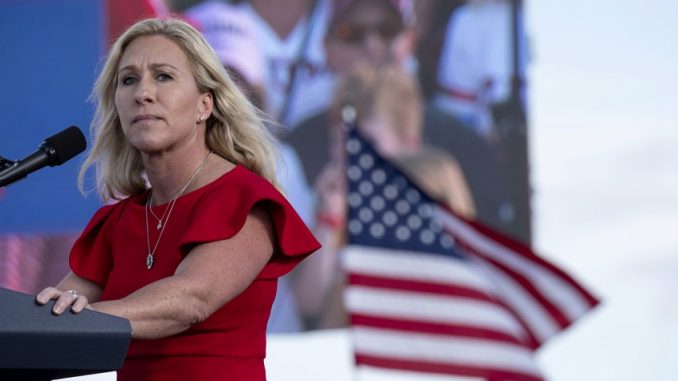 The personal Twitter account of Marjorie Taylor Greene has been permanently suspended. The professional account she uses as a congresswoman remains active. The Twitter overlords confirmed that her account was suspended and cited the reason for posting misinformation about COVID-19. Her reaction? Meh.
A Twitter spokesperson told CBS News that "we permanently suspended the account you referenced (@mtgreenee) for repeated violations of our COVID-19 misinformation policy. We've been clear that, per our strike system for this policy, we will permanently suspend accounts for repeated violations of the policy."

Greene responded on her Gettr account, calling Twitter "an enemy to American and can't handle the truth. That's fine, I'll show America we don't need them and it's time to defeat our enemies."
Her personal account, @mtgreenee, had 465,000 followers. The account was banned for 12 hours in July, accused of spreading COVID-19 misinformation. At that time she responded on Facebook, "Free Speech is under attack." Then, in August, the account was again suspended when she posted that vaccines were failing and ineffective at reducing the spread of COVID-19. She probably figured this day was coming. She still has the other Twitter account and can carry on there.
Her Twitter account as a congresswoman hasn't seen activity since December 19 when she posted her condolences of former Senator Isakson's death. Her opposition is already cheering for this account to be banned, too.
Can't wait til this account is gone too! It won't be long. 🥰 pic.twitter.com/FDBv7xBtv5

— Leslie💙🌊🌊🌊 (@Rogers22L) January 2, 2022
Though some critics aren't so bright.
I've reported this account… surely its impersonating the suspended account?!

— Georgie B (@Jinxed1001) January 2, 2022
The tweet that seems to have pushed her over the edge with Twitter is one from yesterday. She tweeted that COVID vaccines had caused "extremely high amounts" of deaths. Twitter said this was her fifth strike so the suspension is a permanent one.
In a statement to The Verge, Twitter spokesperson Katie Rosborough explains that the platform "permanently suspended" Greene's account "for repeated violations" of the platform's COVID-19 policies. "We've been clear that, per our strike system for this policy, we will permanently suspend accounts for repeated violations of the policy," she adds.

Twitter implemented a five-strike system for COVID-19 misinformation last year
Twitter implemented a five-strike system in March 2021, which puts a lock on users' accounts if they post tweets containing misinformation about COVID-19 — the more strikes a user accrues, the longer they're temporarily barred from their account. If a user receives five strikes, however, their account gets permanently suspended. Twitter didn't confirm which tweet was Greene's final strike.
MTG tweeted a chart labeled as misleading from the Vaccine Adverse Event Reporting System.
Twitter suspended Ms. Greene's account after she tweeted on Saturday, falsely, about "extremely high amounts of Covid vaccine deaths." She included a misleading chart that pulled information from a government database of unverified raw data called the Vaccine Adverse Event Reporting System, or VAERS, a decades-old system that relies on self-reported cases from patients and health care providers.

There is currently no evidence of widespread major side effects from the coronavirus vaccines. The VAERS database, which is managed by the Food and Drug Administration and the Centers for Disease Control and Prevention, has been cited in many coronavirus falsehoods to push the idea that side effects from the Covid-19 vaccines have been underreported.

In March, Twitter introduced a policy that explained the penalties for sharing lies about the virus and vaccines. People who violate that policy are subject to escalating punishments known as strikes and could face a permanent ban if they repeatedly share misinformation about the virus.
She'll be able to communicate with her supporters on other platforms, of course, but that's not the point. This is a part of the campaign to purge those who spread misinformation on the coronavirus and vaccines, as well as other issues, as we saw when Trump was banned almost a year ago on all of the big social media platforms. The social media companies determine what is and isn't misinformation and act accordingly. What this may do is backfire and bring more support for MTG in her congressional district. Just last week I wrote about Rep. Jamaal Bowman, an ambitious Democrat in the House, and his call for her to be expelled from Congress. She has already lost her committee assignments. She is running for re-election and is popular in her district. MTG is likely to win re-election, perhaps easily. We'll see if she keeps her professional account.
I'll end with this from Glenn Greenwald. He points out that when conservatives, in this case, libertarians, tried to begin alternatives to Twitter or Facebook, Democrats and their cohorts quickly worked to shut them down.
For the liberals who pop up on days like this with the libertarian cry: "if you don't like this censorship, go start your own social media company."

Here's a reminder of what happened when Parler did that and Dems & tech monopolies united to destroy it:pic.twitter.com/vAUyEHvXaG

— Glenn Greenwald (@ggreenwald) January 2, 2022
So far 2022 isn't starting out much differently than 2021.
Via    Hot Air