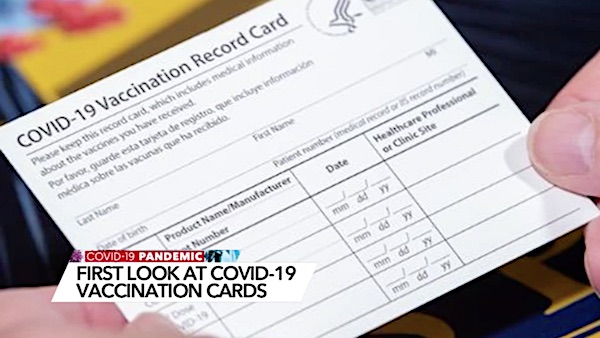 Harvard Medical School professor Martin Kulldorff argues that new research cofirming that natural immunity offers exponentially more protection than vaccines means vaccine passports are both unscientific and discriminatory.
The latest is an Israeli study finding vaccinated individuals were 27 times more likely to get a symptomatic COVID infection than those with natural immunity.
Kuldorff concludes that's a death blow to the vaccine passports required by New York City, France, the Canadian provinces of Quebec and British Columbia, and others, reported the Foundation for Economic Education.
"Prior COVID disease (many working class) provides better immunity than vaccines (many professionals), so vaccine mandates are not only scientific nonsense, they are also discriminatory and unethical," Kulldorff, a biostatistician and epidemiologist, wrote on Twitter.
In April, Kulldorf joined with Stanford professor of medicine Jay Bhattacharya in an op-ed for the Wall Street Journal, arguing vaccine passports would harm rather than benefit public health.
April WSJ op-ed with @MartinKulldorff held up well:
Vaccine passports are unjust and discriminatory. Most endorsing belong to the laptop class. Millions did essential jobs at their usual workplaces and became immune the hard way. https://t.co/iITY3LihbM

— Jay Bhattacharya (@DrJBhattacharya) August 31, 2021
"The idea that everybody needs to be vaccinated is as scientifically baseless as the idea that nobody does," they wrote. "Covid vaccines are essential for older, high-risk people and their caretakers and advisable for many others. But those who've been infected are already immune."
They pointed out that the data shows the "young are at low risk, and children — for whom no vaccine has been approved anyway — are at far less risk of death than from the flu."
"If authorities mandate vaccination of those who don't need it, the public will start questioning vaccines in general," they warned.
Last fall, as WND reported, Kulldorff, Bhattacharya and Dr. Sunetra Gupta of Oxford launched their Great Barrington Declaration arguing mitigation should be focused on the vulnerable — older people with more than two comorbidities — while allowing the healthy to go about their business. The declaration states that as "infectious disease epidemiologists and public health scientists we have grave concerns about the damaging physical and mental health impacts of the prevailing COVID-19 policies, and recommend an approach we call Focused Protection."
They emphasized that herd immunity should be the objective, contending it could be achieved in a relatively short amount of time.
COVID is not a "death sentence," Bhattacharya argued, alluding to survival rates calculated by the Centers for Disease Control of nearly 100% for those under 70 and nearly 95% for those who are older.
Among world's most vaccinated nation
Significantly, the Israeli immunity study was conducted in one of the most highly COVID-19-vaccinated countries in the world. The researchers analyzed the medical records of tens of thousands of Israelis between June 1 and Aug. 14, when the delta variant was dominant, focusing on infections, symptoms and hospitalizations.
In Israel, vaccinated individuals had 27 times higher risk of symptomatic COVID infection compared to those with natural immunity from prior COVID disease [95%CI:13-57, adjusted for time of vaccine/disease]. No COVID deaths in either group.https://t.co/hopImCD1D0

— Martin Kulldorff (@MartinKulldorff) August 25, 2021
FEE noted that Australia has floated the idea of making higher vaccination rates a condition of lifting its lockdown in jurisdictions. In the U.S., President Joe Biden is considering making interstate travel unlawful for the unvaccinated.
But another 15 studies back the Israeli study.
Moreover, CDC research shows that vaccinated individuals are still being infected and are spreading COVID, with as much of the virus in their throat and nasal passage as unvaccinated people.
"High viral loads suggest an increased risk of transmission and raised concern that, unlike with other variants, vaccinated people infected with delta can transmit the virus," CDC Rochelle Director Walensky noted after an oubreak of mostly vaccinated people in Massachusetts.
This week, the CDC said vaccine effectiveness in preventing hospitalizations has fallen from a high of 95% to as low as 75%.
Israel now has the highest current case rate in the entire world.

Oddly, Israel was also the first country to vaccinate the majority of their population and the first country to vaccinate 80% of adults. pic.twitter.com/xjJPaicQ82

— PLC (@Humble_Analysis) August 31, 2021
Israel has now administered booster doses to 25% of the population; their vaccine passport will no longer consider as vaccinated anyone who has let six months pass since their last injection.

This is not the behavior of a nation which has confidence in continuing efficacy. pic.twitter.com/9qeuaTzc5h

— PLC (@Humble_Analysis) August 31, 2021
FEE concludes: "Vaccine passports would be immoral and a massive government overreach even in the absence of these findings. There is simply no historical parallel for governments attempting to restrict the movements of healthy people over a respiratory virus in this manner."
Censorship
In April, YouTube censored a video featuring Kulldorf, Bhattacharya and other health experts in an exchange hosted by Florida Republican Gov. Ron DeSantis.
YouTube didn't like an exchange in which Kulldorff, responding to a question by DeSantis, said "children should not wear face masks, no. "
"They don't need it for their own protection and they don't need it for protecting other people, either," he said.
Bhattacharya said it is "developmentally inappropriate" for children to wear masks and it "just doesn't help on the disease spread."
"I think it's absolutely not the right thing to do," he said.
Bhattacharya said that "if we went back a year, a lot of experts would say that wearing masks for the general public is not evidence-based."
Later, Stanford's Scott Atlas said "there's no scientific rationale or logic to have children wear masks in schools."
Via Wnd