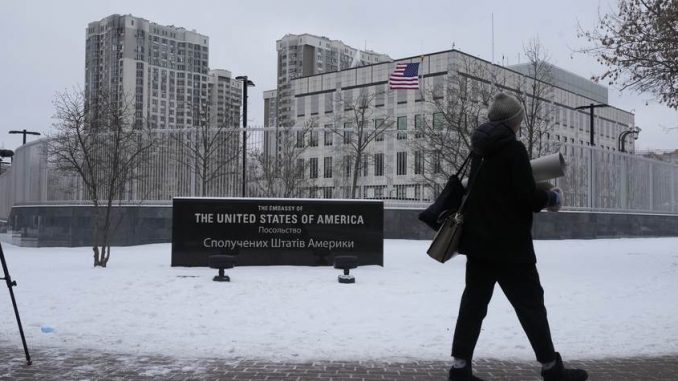 The Daily Mail has an exclusive story about a group of American military veterans who are helping evacuate Americans in Ukraine. A group of 23 American citizens spoke with the news outlet as they were being transported from Kyiv to Romania.
A group called Project Dynamo is helping Americans leave Ukraine as war with Russia breaks out across the country. The photo above is one of the U.S. embassy in Kyiv on January 24. The Biden administration began calling for Americans to leave Ukraine, telling them to make their own arrangements to get out. The State Department made it clear that there would not be a coordinated effort coming from the administration for evacuation.
Does this story sound familiar? There is a deja vu vibe with this story. Project Dynamo answered the calls of American citizens, legal residents, and Afghan helpers desperate to get out of Afghanistan when the Biden administration ended its evacuation efforts in that country. Project Dynamo has experience in this kind of rescue operation. Bryan Stern, a 23-year Army and Navy veteran saved 2,000 people in Kabul last year with Project Dynamo, a group of volunteers.
The group of 23 American citizens are being transported by two vehicles from Kyiv to Romania, a minibus and a car. Stern arranged for their transportation. They began their journey shortly after 5:00 am as "missiles fell from the sky". It is a 300 mile trip. The are taking quieter and smaller roads in order to evade Russian troops, fighter jets and thousands of other evacuees clogging the streets in their own cars. If you are watching the situation on cable news coverage, you've probably seen cameras pointing to traffic caused by all of those who are able to leave Ukrainian cities in their cars. Not everyone has the means to do so, though.
The State Department estimates there are between 10,000 to 30,000 Americans in Ukraine. This is the first rescue of its kind that has been reported.
'There are thousands of Americans and NATO ally-citizens that are left in Ukraine right now and it's about to be Soviet-occupied Russia,' Stern, a former Navy Lt. Commander told DailyMail.com on Thursday over speakerphone while driving one of the two vehicles in his rescue operation.

'We're in the middle of what is probably the first rescue of Americans in the opening hours of World War III.

'We have 23 people in two vehicles. Everyone's got a different story. What we have learned is that in these situations, people don't leave when they should for all kinds of reasons. We don't really judge and often we don't ask.

'We have one American woman whose father passed away yesterday. She flew to Kiev for his funeral and woke up to missile fire and now we're evacuating her. She lives in New Mexico.

'In this circumstance, some people didn't believe it. Some wanted to wait it out. Some hedged their bets and thought "Putin isn't that crazy." What we've all been doing for the last two weeks is saying, "well, there is no way he would do this. Only a mad man would. So why am I going to leave and have my house get looted and robbed." Unfortunately, all those hopes and dreams were all wrong.
Stern says that there is a feeling of disbelief in Ukraine that this is happening. It's understandable that they are confused. President Zelensky played it cool and insisted that there would be no war right up until it became to obvious for him to deny any longer. He kept trying to reassure Ukrainians that everything would be ok and to just go about their everyday lives until just a couple of days ago. Among those being evacuated by Project Dynamo are American-Ukrainian business men and women and their families. The 23 who are lucky enough to get out today with Stern didn't believe the war would happen. They didn't think Putin would start the war and then they woke up to air strikes today. 'None of them thought this would happen. There is just total disbelief. Deep down, we thought "he's not Saddam Hussein. He is not that bad. But just like that, he achieved war criminal status,' Stern said.
Stern is driving the car and his translator is driving the minibus. The translator runs a bus company. Stern agreed in exchange for the use of his bus he (Stern) would lead the man and his family to safety.
On February 10, Biden warned that Americans would not be rescued from Ukraine as some were from Kabul. Stern points out that the two operations are very different. The war in Ukraine was predictable for months, if people were willing to believe that it could happen. There was time to prepare. But, the Russian Army is vastly superior to the Taliban who were without an air presence and had a limited arsenal. The Russian military will quickly dominate Ukraine.
Not everyone who planned to leave with Stern this morning was able to meet him and the others. Four Americans were without gas in their car to drive to the meeting point. However, one group of eight people flagged them down when they saw the vehicles being loaded. Stern isn't speaking with the Americans about how they feel about Biden's abandonment of them in Ukraine but he does say he is happy that the U.S. isn't 'rushing in to World War III.' He said that two people have cried in his arms.
'I actually agree right now from the US government perspective that at least for now, in these early days, that the military is not here.

'I wish the military was but I do agree that they are not – for now. This war, this is WWII. It's OK to not rush into it right now as long as groups like mine can operate.

'People can self-evacuate. This is a marathon not a spring. This is not "we left people behind in a warzone".

'That's what Afghanistan was. In this context, I think it's a good idea to not have military intervention right now. That's a great way to make this war worse. Ukraine is not Afghanistan. The Red Army is not the Taliban. Closing the embassy as early as they did, that is probably not a decision I would have made I think that was a little bit hasty.

'I would have held out a little bit longer but it also sent a message to Americans on the ground that the government is leaving. The President got on TV and said "leave now, we will not come and get you."
Stern said that he just wants to get the Americans across the border and then go from there. The situation is ever-changing right now. He said that "Ukraine is a very different country than it is now in a lot of areas that matter."
Godspeed. Let's hope the rescue is successful and Stern can go back to help others to safety. Veteran volunteers are doing the work that the Biden administration refused to do. This is the second time in recent months that Biden has abandoned Americans in a foreign country under dangerous circumstances. Is that the return to normal we were promised by candidate Biden? Pre-Biden, that was not the normal of American presidents. What happened to no man left behind?
Via      Hot Air