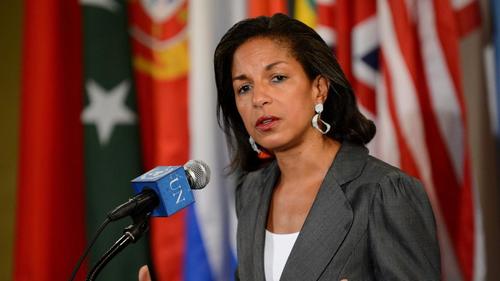 President Biden has put former national security adviser Susan Rice in charge of directing hundreds of federal agencies and departments to comply with a March executive order expanding voting registration procedures for voting by mail. Per the EO, federal agencies must submit to Rice "a strategic plan outlining the ways identified under this review that the agency can promote voter registration and voter participation" within 200 days of the order, according to the Washington Free Beacon.
"Agencies shall consider ways to expand citizens' opportunities to register to vote and to obtain information about, and participate in, the electoral process," reads the order. "The head of each agency shall evaluate ways in which the agency can, as appropriate and consistent with applicable law, promote voter registration and voter participation."
It requires agencies to distribute registration and vote-by-mail ballot application forms, as well as to assist any applicants in completing the forms. It also pushes agencies to allow "approved, nonpartisan third-party organizations and State officials to provide voter registration services on agency premises."

Biden arrived in the White House thanks in large part to the record number of mail-in ballots in the 2020 election. Former president Donald Trump led in many major swing states at the close of Election Day, only to see his lead evaporate as mail-in ballots were counted that heavily favored Biden.

Critics of Biden's order warned that it represents a massive federal government overreach into election policies put in place by state lawmakers. Chase Martin, legal affairs director for the Foundation for Government Accountability, said the order is "an overly broad federal mandate."

"The order is about inflicting the federal government's will on the states," Martin said. "There's a ton of room for this process to be abused." –Free Beacon
The EO followed in the wake of the extremely contentious 2020 election, which also led to a new election law in Florida which created new regulations to improve the integrity of both mail-in and in-person voting. Biden, criticizing the law, said Georgia Republicans are recreating "Jim Crow in the 21st century." Hilariously, the Washington Post debunked Biden's criticisms, saying he misrepresented the new law's impacts on early voting.
"The Post awarded Biden four Pinocchios after voting experts said the final bill expanded opportunities for early voting. That has not stopped several groups from filing lawsuits against the Georgia law, alleging that Republican lawmakers put the law in place after Democrats won the state in the presidential election as well as two runoff elections in January," according to the Free Beacon.
In February, the Brennan Center for Justice found that 43 states are considering bills which seek to limit mail-in voting or institute voter ID requirements on in-person voting, which Democrats say disenfranchise people of color despite the obvious impacts they would have on election integrity.
Via Zero Hedge