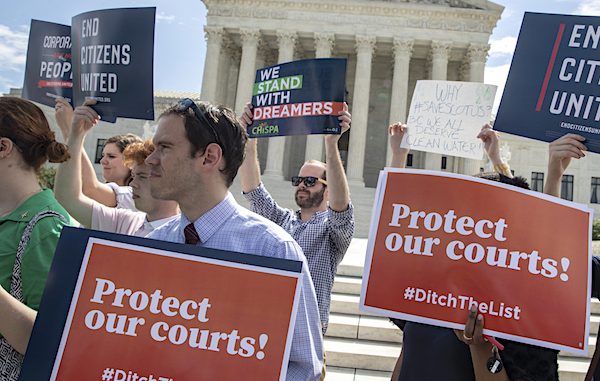 Democrats have talked about packing the Supreme Court and seeking to end lifetime appointments of justices. Now a new commission under the Biden administration will be looking at the subject of court reforms.
Indeed, President Joe Biden's White House is staffing the panel, which will examine reforms to the nation's top court and the federal judiciary, Politico reported.
"The president remains committed to an expert study of the role and debate over reform of the court and will have more to say in the coming weeks," a White House official said in a statement.
Leading the way is the office of White House counsel and Biden campaign lawyer Bob Bauer as co-chair. Sources told Politico other members have already been selected, including Obama Justice Department Deputy Assistant Attorney General Cristina Rodríguez, a Yale Law professor.
Caroline Fredrickson, who has hinted at her support for expanding the Supreme Court from the current nine justices, had been added, along with Harvard Law professor Jack Goldsmith, who's been described by some as a never-Trumper, per the report.
"I often point out to people who aren't lawyers that the Supreme Court is not defined as 'nine person body' in the Constitution, and it has changed size many times," Fredrickson has reportedly said.
Progressives hoping to expand the high court, perhaps in response to the Trump administration's shifting of its ideological balance by appointing three conservative justices, are skeptical that the commission will result in the desired effect.
"Commissions are often places where ideas go to die and there is no time on the clock to reform the court," Take Back the Court Director Aaron Belkin told Politico. "The entire agenda of what needs to get done is in jeopardy thanks to stolen federal courts.
"We know that court expansion is the only strategy to allow the administration to solve the problems facing the country."
On the flip side, some see this new ideology on the court, with its 6-3 conservative bent, as a constitutional revival.
Meanwhile, Senate Majority Leader Chuck Schumer, D-N.Y., says he's eager to see what path results from the commission's work.
"President Biden has put together this commission to come up with a report in 180 days," Schumer told MSNBC earlier this week. "We're going to see what the commission says and go from there."
Via Newsmax