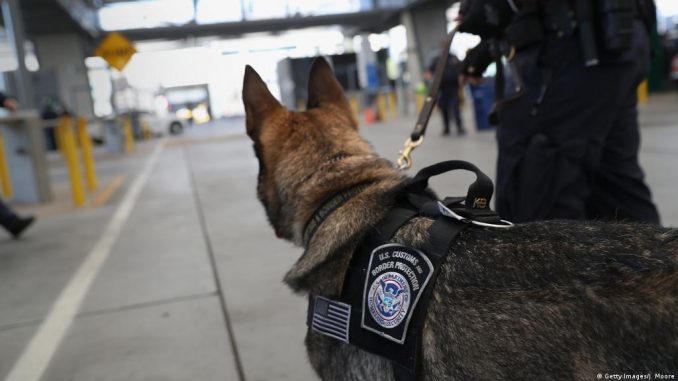 The Biden team has hired a slate of immigration judges initially selected during the Trump era, angering advocates who argue the White House is already failing to deliver in its pledge to push back against the prior administration's shaping of the judiciary.
The first 17 hires to the court system responsible for determining whether migrants get to remain in the country is filled with former prosecutors and counselors for Immigration and Customs Enforcement (ICE) as well as a few picks with little immigration experience.
Almost none have made their career representing migrants in court.
The Thursday announcement from the Department of Justice (DOJ) initially perplexed immigration attorneys, advocates and even some former immigration judges who wondered why the group so closely mirrored the jurists favored by the Trump administration.
"The 17 new immigration judges referenced in the notice all received their conditional offers under the prior administration," a Justice Department spokesperson told The Hill.
Critics said the Biden administration has an obligation to fully vet the judges hired under their watch and rebalance a court system heavily shaped by the Trump team.
It's also a surprising move for a president that has otherwise sought to quickly reverse a number of Trump immigration policies while calling for a more humane response to migration.
"This is a list I would have expected out of Bill Barr or Jeff Sessions, but they're not the attorney general anymore. Elections are supposed to have consequences," said Paul Schmidt, now an adjunct professor at Georgetown Law School after 21 years as an immigration judge. That included time serving as the chair of the Board of Immigration Appeals, the highest administrative body dealing with immigration cases.
"No one on that list is among the top 100 asylum authorities in the country, and that's the kind of people they should be hiring — not prosecutorial re-treads," he added.
Under the Trump administration, the Justice Department, which oversees the immigration court system, filled roughly two-thirds of the 520 seats on the bench, often picking those with long careers in ICE who argue in favor of deporting people.
"The Trump administration was very astute when it came to the importance of who sits on the bench. That was as true of the Supreme Court as it was all of the federal circuits and the federal district courts, and to their immense credit they did not have a blind spot for the immigration court," said César Cuauhtémoc García Hernández, a professor at the University of Denver's Sturm College of Law.
"I think it's important for the administration actually putting these individuals on the bench to decide if they have the information they need to make this decision or delay the process or to take ownership for making these appointments," he added.
Biden's budget calls for hiring 100 new immigration court judges — a figure many argue will hardly make a dent in a backlog of 1.3 million cases that will take an estimated four years to get through.
And his designated White House counsel wrote in a letter to lawmakers in December seeking suggestions for who to nominate to the bench, writing that they were "focused on nominating individuals whose legal experiences have been historically underrepresented on the federal bench, including … those who represent Americans in every walk of life."
For many, that means the immigration court system needs to be filled with more immigration defenders.
"The bottom line is that the president has been clear and forceful that he wants to put judges on the bench with diversity that had been lacking in past, and that's not just in terms of race and other markers but that diversity in professional background is just as important," said Peter Markowitz, a professor at the Cardozo School of Law at Yeshiva University.
"You can't just have judges that were former prosecutors," he added. "We need former defense attorneys and other actors in the legal system represented on the bench as well."
A failure to do so under the Trump administration has led to an imbalance in the system, García Hernández said.
"People who work as immigration lawyers and immigration defense lawyers develop a different perspective than people that work as immigration prosecutors," he said.
Some of that can be seen in the number of asylum case denials, which surged under Trump as judges denied petitions from those arguing they would face danger if they returned to their home country due to things like their race, religion or political beliefs.
Denial rates that had hovered around 50 percent under prior administrations jumped closer to 70 percent.
"All but one of these new judges were former prosecutors, law enforcement, or in other branches of government, demonstrating a clear lack of diversity and little change from hires made under the Trump administration whose bench had the highest rate of asylum denials in history at 72 percent," Greg Chen, director of government relations for the American Immigration Lawyers Association, told The Hill by email.
"The Biden administration is rushing to hire more judges to address the massive 1.3 million backlog in cases, but on its own more judges won't fix the fundamental lack of fairness in the immigration courts which is why Attorney General [Merrick] Garland must immediately institute reforms to restore the court's integrity," he said.
DOJ pushed back against criticism that the new judges would contribute to a pattern of rulings that favor government attorneys over immigrants, saying it "takes seriously any claims of unjustified and significant anomalies in adjudicator decision-making and takes steps to evaluate disparities."
"Note also that the Executive Office for Immigration Review (EOIR) continually evaluates its processes and procedures to ensure that immigration cases are adjudicated fairly, impartially and expeditiously and that its immigration judges uniformly interpret and administer U.S. immigration laws," the spokesperson said.
But Schmidt said diversifying the attorneys on the bench is what will be needed to have a greater impact.
"You need to get some progressive immigration experts into the system who recognize what good asylum claims are who can establish precedent for granting cases and then move those cases through the system," he said.
"I haven't seen much evidence to back up their initial claim they want to be fair and just to asylum seekers. It's just Stephen Miller Lite."
Via The Hill