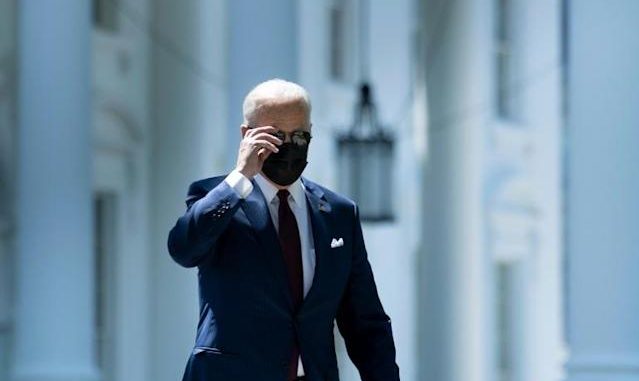 President Biden has embraced big government action to confront the coronavirus crisis and implement his agenda. But he's learning that his powers are limited when it comes to getting the virus under control and the country back to normal.
Picking up where the Trump administration left off, Biden oversaw a massive effort to ramp up production and distribution of coronavirus vaccines that has resulted in 57 percent of U.S. adults receiving at least one dose just over a year after the U.S. locked down due to the virus.
However, the administration is limited in its ability to get as many Americans as possible vaccinated, something that is critical to moving the country toward a level of normalcy, and to usher the country and indeed the world past the pandemic.
A survey this week from the Kaiser Family Foundation found that only nine percent said they hadn't been vaccinated but planned to do so, suggesting it will be more difficult to reach a threshold in which 70 to 80 percent of the country has been vaccinated.
"The White House is in a bit of a bind," one Democratic strategist acknowledged. "Because people will blame them for not properly addressing how to achieve herd immunity as much as people praised them for the vaccine rollout."
Biden himself this week said he believed the next 100 days of his presidency will be "harder" because the situation is "beyond my personal control."
The Biden administration in April launched a "community corps" program that brings together faith, community, business and athletic groups to step up outreach to convince Americans to get vaccines. Biden has also taken steps to increase vaccine uptake in minority and rural communities, including recently redirecting Federal Emergency Management Agency resources to support pop-up and mobile clinics and small community vaccination sites and shipping new vaccines to rural health clinics.
Biden is also getting help from both private businesses and public entities to reach herd immunity.
Cities and businesses have tried to incentivize vaccines by offering free goods, like donuts, beer and tickets to sports games. Many colleges and universities will require vaccines and employers may do the same.
Sporting leagues and companies with ties to the entertainment industry have sought to get people to be vaccinated so that they can open events to larger capacities.
Biden has struggled to convince some states to follow his lead on the pandemic, at times leading to tensions with governors. In early March, Republican governors in Texas and Mississippi lifted mask mandates and other restrictions. Biden criticized the moves as "Neanderthal thinking."
Tom Frieden, former Centers for Disease Control and Prevention director under the Obama administration, commended the Biden administration's response to the virus overall but said officials could do more to single out states not doing a good job and to increase availability of vaccines globally.
"The plain truth is that the federal government doesn't have unlimited control over state governments," Frieden said. "Health is largely done at the state level and if you're not willing to call out states that aren't doing a good job and to lift up states that are doing a good job because of the politics then you're leaving on the table one of the main tools you have to try to improve the response in the U.S."
"There is no question that the Biden administration has both made COVID a top priority and also is committed to doing whatever they can to address it and they've put really talented, experienced people in charge of the effort," he said. "They're doing a great job, but there's always more that can be done."
Biden has taken advantage of the bully pulpit to issue clear messages about public health guidance and urge people to get vaccinated, in what health experts describe as a welcome departure from Trump's freewheeling rhetoric on the virus.
Still, some have criticized Biden's administration for not doing enough to incentivize people to get their vaccinations. Biden continues to wear a mask in public despite being vaccinated, for instance, which critics say sends the wrong message.
"The power of the presidency is fundamentally the power of the bully pulpit," Alex Conant, a former spokesman in George W. Bush's White House, said. "The single most powerful tool that a president has is his podium and when a president doesn't communicate well, he is not going to do a good job."
The administration has sounded optimistic tones about what lies ahead but they have also urged caution in their messaging.
Appearing on NBC's "Today" show earlier this week, Anthony Fauci was asked about the pace of reopenings and he urged the public not to "declare victory prematurely."
"Every single day when we vaccinate more people we get closer and closer to being able to pull back more and more restrictions," Fauci said. "So the answer to everybody's problem is to just get as many people vaccinated as you possibly can."
So far public polling shows Americans approve of Biden's COVID-19 response and Democrats say there's not much the administration can do.
"I don't think any voter is going to believe that Biden has not treated Covid with the urgency that it deserves," said Democratic strategist Joel Payne. "It was his first legislative priority and he has made public health a hallmark of his public profile as president.
"I think at this point, it's less about what the president and his team can do and more about how the culture and the temperature of the country right now dictates social norms around vaccination," Payne said.
Via The Hill