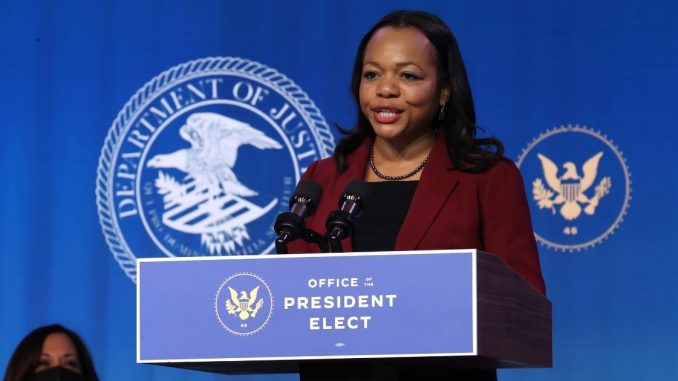 President Joe Biden's nominee to lead the Justice Department's civil rights division has locked her Twitter account as a date for her Senate confirmation hearing remains in limbo.
In January 2019, Kristen Clarke promoted Jussie Smollett's now-debunked "hate crime" allegations on Twitter. Clarke also criticized the Chicago Police Department for seeking access to Smollett's cellphone in its investigation into the supposed attack.
Clarke has also used Twitter to criticize two of the senators whose votes will be pivotal to her potential confirmation.
In February 2017, Clarke criticized Democratic Sen. Joe Manchin for voting to confirm Jeff Sessions as attorney general.
In response to a tweet in which Manchin praised Martin Luther King Jr., Clarke accused the senator of uttering "hollow words."
Clarke also called Republican Sen. Lisa Murkowski "shameful" for voting last year to confirm Amy Coney Barrett to the Supreme Court.
Clarke, a civil rights attorney, is one of a handful of Biden nominees whose controversial comments on social media have jeopardized their confirmation.
Colin Kahl, Biden's nominee for a top Pentagon position, has come under pressure over inflammatory tweets attacking former President Donald Trump and Republicans.
Neera Tanden deleted thousands of tweets shortly before she was nominated to lead the Office of Management and Budget, but her confirmation was nevertheless derailed by her history of blasting top Republicans on Twitter.
In addition to her tweets, Clarke has come under fire for racist remarks made while she was a student at Harvard University in 1994.
Fox News reported in January that Clarke wrote in the school newspaper that black people have "greater mental, physical and spiritual abilities" than whites.
Clarke did not respond to a request for comment.