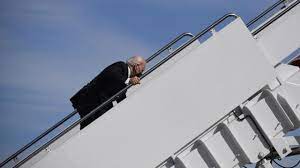 The White House on Friday waved off any concerns about President Biden's well-being after he stumbled twice on the stairs when boarding Air Force One for a trip to Georgia, with aides saying the president is "doing 100 percent."
Biden slipped while jogging up the steps to the presidential aircraft on Friday morning. When he caught his footing, he stumbled again, dropping to a knee and taking a moment to collect himself before continuing to the plane.
"I know folks have seen that President Biden slipped on his way up the stairs to AF1, but I'm happy to report that he is just fine and did not even require any attention from the medical team who travels with him. Nothing more than a misstep on the stairs," White House communications director Kate Bedingfield tweeted.
Deputy press secretary Karine Jean-Pierre told reporters aboard the plane that Biden was "doing fine."
"It was very windy," she said. "I almost fell coming up the steps myself. He is doing 100 percent."
Biden, who is 78, wore a walking boot for several weeks during the transition after he was diagnosed with a fracture in his foot. Biden said he suffered the injury after slipping on a bathroom mat when one of his dogs approached him.
Biden's stumble on Friday garnered attention from conservative media in particular given former President Trump and others sought to question Biden's physical and mental stamina throughout the 2020 campaign.
Trump's occasional missteps, including when he walked haltingly down a ramp following a West Point commencement speech, drew similar attention.
I remember the press bashing Trump for touching the rail once. Biden falls repeatedly but I'm sure he's the picture of health. No wonder all our enemies are pouncing simultaneously and mocking him publicly. pic.twitter.com/R1qN9DDHFW

— Donald Trump Jr. (@DonaldJTrumpJr) March 19, 2021
Via The Hill