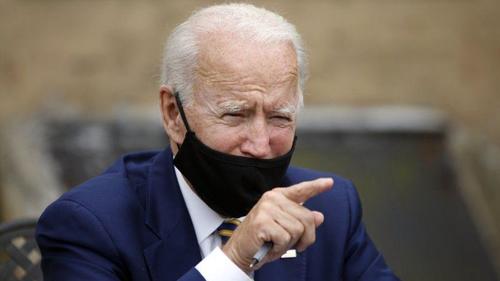 President Biden is coming under fire from both sides of the aisle for constantly wearing a mask despite announcing that vaccinated people no longer require face coverings when outdoors. In other words, it's simply virtue signaling at this point.
As The Hill (!?) notes, days later after announcing the loosened guidelines from the CDC, "Biden was spotted with a mask while walking outside to Marine One with first lady Jill Biden, even though both have been vaccinated and no others were around."
The president again donned a mask at a Georgia drive-in rally while his wife spoke a few feet away, despite nobody else being on stage.

Biden has strived to set an example for Americans by wearing a mask in public frequently during his first months in office, pleading with the public that it was a key tool to end the pandemic. But health experts say the country is reaching a tipping point where Biden now must alter his behavior to reflect how vaccines can lead to a return to normal. –The Hill
"I actually think it would do so much good for the president to be modeling at this point the really critical times when people should be wearing a mask, and letting people know here is the benefit of the vaccine: You don't need to be wearing a mask during these other times," said ER physician and former Baltimore health commissioner, Leana Wen.
Biden, however, can't seem to quit masks.
Biden made a point to walk away from the podium without a mask after outlining the new guidance, and White House press secretary Jen Psaki said the president and senior staff would abide by the CDC recommendations that no longer required masks outdoors for vaccinated individuals.

But the president has been slow to put the updated recommendations into practice, as reflected by his trip to Georgia.

Biden also wore a mask into and out of the House chamber for his speech to a joint session of Congress, despite most of those in attendance being distanced and vaccinated. -The Hill
Now, even CNN's Jake Tapper is calling out the president for sending mixed signals over mask use while vaccinated.
"Should the president start following these guidelines and stop wearing a mask outdoors, stop wearing a mask indoors when with small groups of other vaccinated Americans, to show the American people there is a benefit to getting the vaccine?" Tapper asked guest Anita Dunn – to which Dunn replied that Biden "has always taken his role as sending a signal to follow the science very seriously," but that people should instead follow CDC guidelines.
>> @JakeTapper to Anita Dunn: "Should the president start following these guidelines and stop wearing a mask outdoors, stop wearing a mask indoors when with small groups of other vaccinated Americans, to show the American people there is a benefit to getting the vaccine?" pic.twitter.com/3YiAs3nJlq

— Brian Stelter (@brianstelter) May 2, 2021
Via Zero Hedge