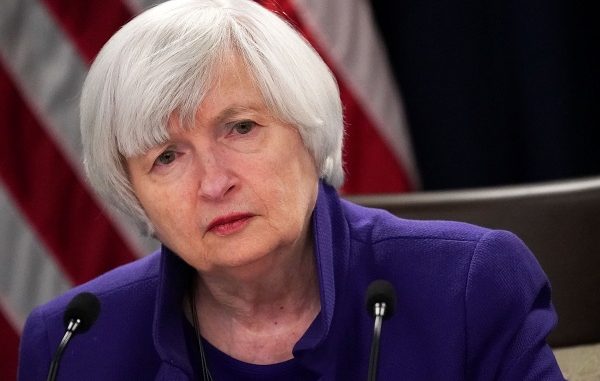 Treasury Secretary Janet Yellen has summoned U.S. financial regulators to discuss recent volatility in financial markets, in her first public effort to address the tumult involving GameStop Corp. shares and broker-dealer Robinhood Markets Inc.
Yellen called a meeting with the Securities and Exchange Commission, the Federal Reserve Board, the Federal Reserve Bank of New York and the Commodity Futures Trading Commission, the Treasury said in a statement late Tuesday. The Biden administration and regulators have faced pressure in recent days to respond to the market frenzy.
"Secretary Yellen believes the integrity of markets is important and has asked for a discussion of recent volatility in financial markets and whether recent activities are consistent with investor protection and fair and efficient markets," the department said.
Yellen's predecessors, including Steven Mnuchin, also organized meetings of financial agencies during times of tumult. They aren't necessarily a signal that any policy moves are imminent. The SEC already said Friday it's seeking to identify potential misconduct and will scrutinize brokerages' decisions to halt buying that triggered a retail-investor revolt.
GameStop, a video-game retailer, was one of a handful of companies whose shares began soaring in late January, driven by an army of retail investors active on the online forums hosted by Reddit. Some investors openly called on others to bid up the shares of certain names in order to trigger losses for hedge funds that had bet their prices would fall.
GameStop shares went from $19.95 to a peak of $347.51 on Jan. 27 in just 10 trading days, and with no meaningful change in the company's profit outlook. It has since swung wildly and fell 60% to close at $90 on Tuesday, suggesting the frenzy may be easing.
The episode has raised questions about whether broader risks for the financial system are brewing. As Treasury secretary, Yellen is chair of the Financial Stability Oversight Council, which was set up in the wake of the global financial crisis to monitor systemic risks. This week's meeting about GameStop is not a formal FSOC session, but more of an ad hoc gathering of top financial regulators.
The SEC's acting chair, Allison Herren Lee, said Monday that the agency is keeping a close eye on stocks that have surged to extraordinary heights during the recent bouts of wild trading but has seen no evidence that the broader market is under threat.
"We haven't seen anything to indicate anything that suggests it would bring down the market," Lee told NPR in an interview.
The wild trading has left politicians in both parties grasping for responses to the new phenomenon of retail investors banding together on social media.
On Monday, the House Financial Services Committee announced that it would hold a hearing on Feb. 18 regarding "recent market volatility" involving GameStop and other companies.
Yellen has requested an ethics waiver to hold the meeting, a Treasury spokeswoman said, confirming a Reuters report.
Yellen received more than $700,000 in speaking fees from Citadel, the financial empire run by billionaire Ken Griffin. Griffin runs a hedge fund and controls Citadel Securities, a giant market making firm that executes trades for Robinhood's customers.
Richard Berner, professor at New York University's Stern School of Business and the former director of the Treasury's Office of Financial Research, said it's important that the SEC and other regulators are monitoring markets for any signs of fraud or manipulation.
"Both are potentially financial stability issues," he said. "Were they to escalate and persist, these events might erode investor trust. Trust in markets and market integrity is absolutely critical for markets to function and for people to engage in them."
The market turbulence comes at a particularly awkward time in Washington, where the Biden administration is still taking wing. Many of the president's cabinet choices and picks for other crucial jobs await Senate confirmation — including Gary Gensler, his nominee as SEC chairman.
Via Newsmax