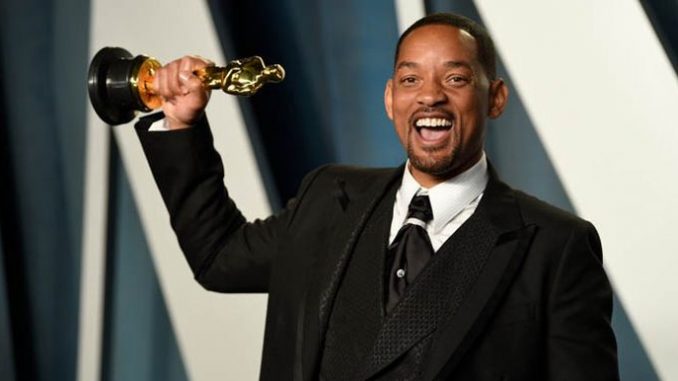 We've been hearing all week that the Academy of Motion Picture Arts and Sciences is busy investigating the slap at the Oscars and will eventually mete out some serious consequences. Well, not too serious. According to Whoopi Goldberg they won't take his Oscar but they might ban him from future telecasts or something, forcing him to watch future broadcasts from home. Only it looks like Will Smith has beaten them to the punch (pun intended).
Will Smith, facing possible expulsion or suspension after he assaulted Chris Rock during last Sunday's Oscars telecast, has instead resigned from the Academy of Motion Picture Arts & Sciences. The move comes as the actor is embroiled in the gravest crisis of his career and as the organization behind the Academy Awards has struggled in its attempts to deal with the fallout from the altercation. In a statement, Smith called his actions "shocking, painful and inexcusable" and said that he will accept any additional consequences that the Academy's Board of Governors deems appropriate.

"The list of those I have hurt is long and includes Chris, his family, many of my dear friends and loved ones, all those in attendance, and global audiences at home," Smith said. "I betrayed the trust of the Academy. I deprived other nominees and winners of their opportunity to celebrate and be celebrated for their extraordinary work. I am heartbroken."…

"I want to put the focus back on those who deserve attention for their achievements and allow the Academy to get back to the incredible work it does to support creativity and artistry in film," he stated, concluding with "change takes time and I am committed to doing the work to ensure that I never again allow violence to overtake reason."

Academy president David Rubin replied to his resignation, saying in a statement, "We have received and accepted Mr. Will Smith's immediate resignation from the Academy of Motion Picture Arts and Sciences. We will continue to move forward with our disciplinary proceedings against Mr. Smith for violations of the Academy's Standards of Conduct, in advance of our next scheduled board meeting on April 18."
I know these statements are being written by some crisis communications person who is getting paid a lot of money for finding the perfect words, but I'll admit part of me would like to believe Smith really is heartbroken over how badly he screwed up. I like some of Will Smith's movies so it would be nice to think that he's not just sitting in his mansion and giving everyone the finger while his PR people try to fix this for him. I'd rather he not be the guy we saw Sunday night because that guy was a real jackass. But how do I know that's not the real Will Smith?
That's the problem with doing something so out of character or at least out of line with the character we thought was your character. Once you slap someone and curse them out on live television and then stick around and defend your behavior and then go out dancing all night to celebrate as if nothing happened…it's hard to believe you're heartbroken over your own behavior. And again, that is especially true when you're not actually saying you're heartbroken with your own mouth, it's just your people whose job it is to save your career releasing a statement to that effect. People would have to be crazy to take that at face value.
For that matter, even if he released a video on Instagram or something in which he broke down in tears and said all the same things, would you believe it? He literally just won an Oscar as the Best Actor of 2021. He could say anything and who would know for sure if it's real?
Here's where I think Smith needs to do if he really wants to get back in to people's good graces. He needs to personally apologize to Chris Rock and convince him that he means it. If Rock believes him then I'll believe him. But until that happens, these statements of remorse aren't very convincing.
Via      Hot Air