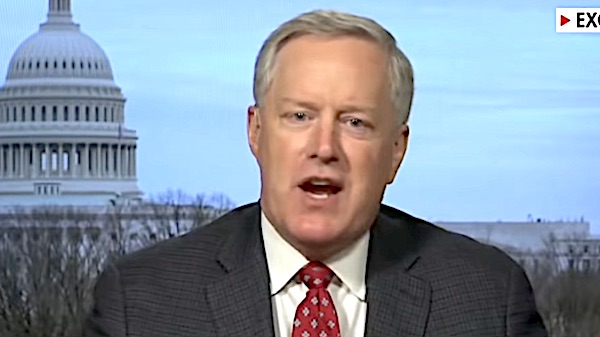 Many questions remain unanswered about the security that was provided at the U.S. Capitol on Jan. 6, when rioters broke in and vandalized the building.
But according to former White House Chief of Staff Mark Meadows, President Trump made repeated efforts to ensure there were adequate resources.
Meadows said in an interview with "Sunday Morning Futures" with Maria Bartiromo on the Fox News Channel that the president offered security assistance to Capitol and congressional officials multiple times and was turned down.
"We also know that in January, but also throughout the summer, that the president was very vocal in making sure that we had plenty of National Guard, plenty of additional support because he supports our rule of law and supports our law enforcement and offered additional help," he said.
"Even in January, that was a given, as many as 10,000 National Guard troops were told to be on the ready by the Secretary of Defense," he said. "That was a direct order from President Trump and yet here is what we see, all kinds of blame going around but yet not a whole lot of accountability."
See the interview:
After the riot, 25,000 National Guard troops were dispatched to the Capitol. About 5,000 remain at a cost that now is reaching into the hundreds of millions of dollars. Security fencing as been erected around the building, and there is talk of erecting permanent barriers.
Meadows accused the Biden administration of acting not on behalf of the American people but "on behalf of special interests."
The riot was a springboard for Democrats to launch a second impeachment of President Trump and to hold a trial, beginning Tuesday, even though he has left office. He's charged with incitement of insurrection on the premise that his accusation that election fraud affected the outcome of the election and his rhetoric during a speech a mile away from the Capitol provoked the riot.
However, in the speech, Trump urged his supporters to "peacefully" go to the Capitol to "cheer on" the lawmakers who were carrying out the constitutional process of objecting to slates of electors.
And Meadows said Trump repeatedly offered extra security.
"Help was offered multiple times, not just in January, but throughout the summer, with the D.C. mayor, saying that the president stood by willing to offer National Guard assistance, other assistance, and often, in fact, every time, was rebuked and said, no, we can go it alone," Meadows said.
Via Wnd