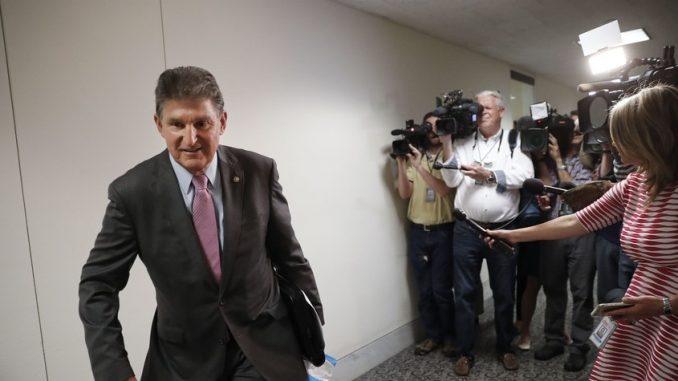 As you probably recall, Manchin called an abrupt end to negotiations over the Build Back Better bill just before Christmas. There was a follow-up story written by a Manchin confidante which said the tipping point was when the White House put out a statement singling out Manchin by name as the obstacle to getting a deal. Manchin felt that statement was at odds with the gentlemanly discussion he'd been having with Biden in private and he got angry about it and blew up the negotiations.
Ever since then there have been a series of threats and rumors that negotiations might be getting back on track. But later reporting claimed that was not the case. Democrats had moved on to focusing on voting rights and Manchin was still not talking to the White House about BBB. Most recently there was a story saying Senate Dems were pushing Biden to reengage with Manchin.
Today, the Washington Post reports that reengaging may be difficult. When Manchin blew up negotiations last month that apparently also put an end to the $1.8 trillion offer which he had briefly made to the White House:
The week before Christmas, Sen. Joe Manchin III sent the White House a $1.8 trillion counteroffer to President Biden's Build Back Better agenda that included substantial funds for climate, health-care and education initiatives.

About four weeks later, the West Virginia Democrat has made clear that he does not currently support advancing even that offer following a breakdown in negotiations between Manchin and the White House right before Christmas, three people with knowledge of the matter said…

White House allies, including several officials in the White House itself, have in recent days expressed confusion as to how the administration could pass up on the potential for $1.8 trillion deal that would amount to one of the most significant pieces of domestic policy in decades…

But for several reasons, it is unclear whether the White House could accept Manchin's plan, even if it wanted to — not the least of which is the confusion now over whether Manchin would vote to approve it.
According to the Post, Manchin's offer would have included fully funded pre-K, climate spending, an expansion of Obamacare and a billionaires tax but did not include the expanded child tax credit which was considered the real sticking point. Nevertheless, at the time the offer was made there were pieces like this one by Jonathan Chait saying the White House should take the offer immediately.
Manchin's proposal gives Biden something vastly superior to the failure of Build Back Better. He would have the largest green-energy investment in history plus the creation of a permanent pre-kindergarten plan plus making health insurance universally available. He should beg Manchin's forgiveness for his oh-so-rude statement and sign the deal tomorrow.
Now it may be too late to take the offer. Or maybe not.
Basically, Manchin got upset because a bunch of protesters were showing up at his house boat and he didn't like the White House pinning a target on him. How hard would it be for the White House to reverse that? My guess is any decision made by Manchin on the basis of wounded pride could be reversed with a bit of public praise from the White House. The real question is whether Biden is willing to accept a bill which probably will not have the expanded child tax credit or the tax hikes which Sen. Sinema opposes.
I guess it's possible that Democrats will continue to screw this up indefinitely but with Biden's polling in a deep crater and the 2022 elections approaching, I have to think that at some point everyone will agree something is a lot better than nothing. They'll declare whatever they eventually pass to be a triumph and the media will agree with them. There will be a brief lift in Biden's polling and Dems will once again proclaim victory as if the past several months of fighting never happened.
Via      Hot Air