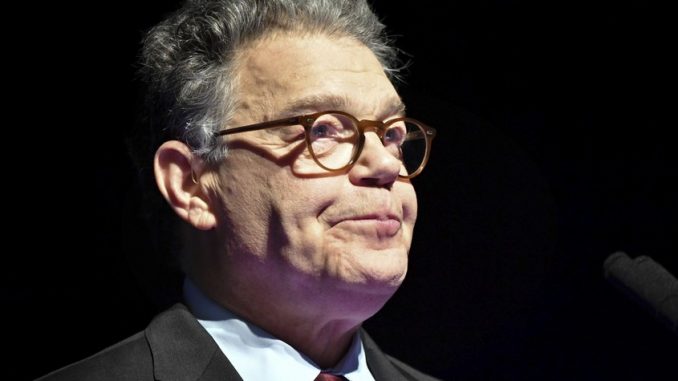 Yes, it most likely is a joke. Al Franken is a former senator and he's a Democrat. Rumor is that he's thinking about getting back into politics but so far nothing has come of that thought. In the meantime, he's doing a little poking at Democrats who are supporting Liz Cheney in the Wyoming Republican primary.
Franken's "endorsement" reads as though it is made tongue-in-cheek. Take a look.
I've decided to endorse @RepLizCheney for the Republican nomination for the House seat In Wyoming it's my first time endorsing in a GOP primary. But I think Al Franken's support will carry a lot of weight with WY Republicans.

— Al Franken (@alfranken) August 13, 2022
Which brought a little reminder of why Al Franken is no longer in the Senate.
That a very gripping endorsement, Al. pic.twitter.com/rouqbZFedR

— Tim Young (@TimRunsHisMouth) August 13, 2022
His humor has always been juvenile. It's just lame now that he's old.
There's little doubt that this would be his first time endorsing a candidate in a GOP primary race. "But I think Al Franken's support will carry a lot of weight with WY Republicans," is the final overreach. Wyoming is the reddest of states and there's no way Al Franken's endorsement would save a candidate among Republican voters, especially a progressive Democrat like Franken. So, it can be looked upon as a little fun on a weekend. Best of all he shows how Democrats supporting Liz in the primary look. It's a cynical partisan ploy and, sadly, Liz encourages it for her own political survival. She's going to lose the race bigly and it's of her own doing.
I mean, since when do Democrats like any of the Cheneys? They are the ones who labeled her father as Darth Vader in the GW Bush administration and since then refer to him as a war criminal. Liz Cheney is as establishment Republican as we get and that is no longer a good thing in the era of Trump.
Some Republicans played into Franken's endorsement, though, because of course they did. That's how social media works. And Cruz knows social media.
Kinda says it all. https://t.co/MvJ9bsD6nf

— Ted Cruz (@tedcruz) August 13, 2022
The Wyoming primary is Tuesday, August 16. She's going to lose but the question is how badly? She's served in Congress since 2017. She's comfortable with the fact that she's going to lose and is stepping into the role of martyr. "If the cost of standing up for the Constitution is losing the House seat, then that's a price I'm willing to pay," she told The New York Times in a recent interview. She has raised millions of dollars in contributions. Maybe she'll run for president as an Independent in 2024 to shake things up for Trump.
If she wanted to be a part of the January 6 commission, so be it. She should have, however, insisted on getting some Republicans on the committee and making it a regular committee in hearings, not a partisan show production for the benefit of Democrats. She allowed Nancy Pelosi to win and that's not acceptable. Pelosi was so desperate for Cheney to be on that committee that she would have cut a deal with Liz, if she bothered to ask. Instead she was content to be one of two Republicans and the other one was Adam Kinzinger.
Liz is about to join the ranks of those Republicans who voted for Trump's impeachment and then lost their primary races for re-election.
Notably, of the other nine Republicans who voted to impeach Trump, four (Representatives Adam Kinzinger of Illinois, Fred Upton of Michigan, Anthony Gonzalez of Ohio and John Katko of New York) chose not to seek reelection, three (Representatives Tom Rice of South Carolina, Peter Meijer of Michigan, and Representative Jaime Herrera Beutler of Washington state) have lost their primaries to Trump-backed challengers, and just two (Representatives Dan Newhouse of Washington state and David Valadao of California) will go on to the general election.
Today, Real Clear Politics has Hageman up by 25.5 in the race.
Via            Hot Air
The Death of Black Coffee:
Latest studies have found that 1 tiny tweak to your morning coffee puts your body into fat-burn ing mode for the rest of the day.
This coffee trick takes less than 10 seconds…
Yet, it instantly ignites your metabolism and boosts your health, energy and well-being at the same time!
Here's to an amazing start to your day 🙂
====> Try This 10 Sec Fat-Burning Coffee Trick!