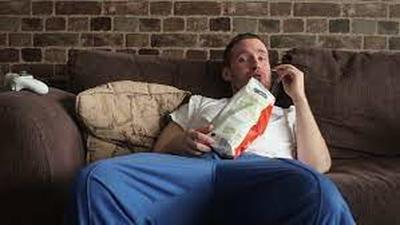 Right on cue, just after Minneapolis Fed chief Neel Kashkari admitted that expanded unemployment insurance was keeping workers out of the labor market, contributing to Friday's disappointing employment number, the US Chamber of Commerce released a statement calling for ending the $300 weekly supplemental benefit.
Executive Vice President and Chief Policy Officer Neil Bradley released the following as a statement, saying that while there might have been a time when the benefit was needed, that time has now passed. "Paying people not to work is dampening what should be a stronger jobs market" and is hurting the overall recovery, he said.
"The disappointing jobs report makes it clear that paying people not to work is dampening what should be a stronger jobs market. We need a comprehensive approach to dealing with our workforce issues and the very real threat unfilled positions poses to our economic recovery from the pandemic. One step policymakers should take now is ending the $300 weekly supplemental unemployment benefit. Based on the Chamber's analysis, the $300 benefit results in approximately one in four recipients taking home more in unemployment than they earned working."
While Dems often butt heads with the Chamber of Commerce, the Party and its leader, President Joe Biden, certainly won't appreciate this growing chorus of opposition as they try to order up even more stimulus under the guise of "infrastructure".
In an interview with CNBC, Bradley repudiated a question about whether businesses need to simply raise wages. He noted that wages were actually a bright spot in Friday's report, and that the problem is businesses aren't just competing with each other for workers, but with the government, which is paying workers more to sit at home than businesses can afford to pay them to work.
CNBC's David Faber concluded by affirming that this debate is "far from over".
Elaborating on the issue, Mark Glennon at Wirepoints elaborates on how  the torrent of cash pouring into the economy from both the federal government and the Fed, which are now "joined at the hip" (as former Fed economist Henry Kauffman recently wrote), is contributing to damaging worker shortages and ultimately undermining the recovery, just as the CoC asserts.
It's key to first to get your mind around how much money Washington is pumping out, which isn't easy. So far, lawmakers have enacted six major pandemic relief bills costing about $5.3 trillion. For a little perspective, that's 27% more than the entire federal budget for 2019, the last fiscal year before the pandemic. And now the Biden Administration wants to spend an additional $4.5 trillion.

Through it all, the Fed has been the Treasury's enabler. It has already wished into existence $3.5 trillion since the pandemic started, used to purchase notes and bonds. And it says it expects to continue that buying at a clip of $1.4 trillion per year while keeping interest rates low, rates that already are negative, being lower than inflation.

Here's another bit of historical perspective. In 1988, Democratic Senator Lloyd Bentsen said this in a debate during his candidacy for Vice President: "You know, if you let me write $200 billion worth of hot checks every year, I could give you an illusion of prosperity, too."

That $200 billion would be only $450 billion today. But this year's projected federal deficit is five times higher than that even without the Biden Administration's new spending proposal. The Fed is now creating as much money as Bentsen decried in today's dollars every four months.

Granted, not everybody has benefited from federal largess. Some individuals have suffered immense financial hardship from the pandemic.

But that definitely has not been typical. Federal assistance has been so vast that total personal income in every state has actually been higher during the pandemic than before. As a Pew Research report put it, "The sharp increase in government transfer payments more than offset a slight decline in inflation-adjusted earnings, which include wages from work plus extra compensation such as employer-sponsored health benefits, as well as business profits."

Nor have state and local governments suffered. Federal relief for almost all of them together with their own reserves has exceeded losses caused by the pandemic. Many needed no help at all, as we detailed here.
Even before Friday's report, South Carolina and Montana had already moved to end the expanded unemployment benefits. Will we see more states follow suit in the coming days?
Today's payrolls print was the second biggest miss in history (second only to last March) as despite 7 million job openings, only a net 266k additional Americans got jobs.
Who could have possibly seen this coming?
According to Bloomberg, economists are suddenly 'baffled' by perhaps the most obvious outcome of a government paying people not to work during the pandemic; there's a giant shortage of people willing to return to the workforce.
From Chipotle, to MGM, to McDonald's, companies are now widely reporting that they can't find – or entice – enough workers to fill open positions now that America has largely emerged from COVID lockdowns. Executives, who are decidedly less 'baffled' than the economists, are blaming 'stimulus checks and generous unemployment benefits' for hampering their efforts to hire.
And as we noted earlier Thursday, Montana has become the first state to cancel unemployment benefits due to an 'unprecedented worker shortage.' This was confirmed by the results of the latest, April, NFIB Small Business survey, which found that a record 42% of companies reported job openings that could not be filled.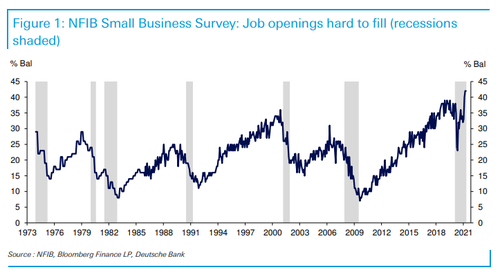 The key quote from NFIB Chief Economist Bill Dunkelberg was "Main Street is doing better as state and local restrictions are eased, but finding qualified labour is a critical issue for small businesses nationwide." And the explicit admission that BIden's "trillions" in stimulus are behind this predicament:
"Small business owners are competing with the pandemic and increased unemployment benefits that are keeping some workers out of the labor force."
As if it wasn't clear, the NFIB added that "finding eligible workers to fill open positions will become increasingly difficult for small business owners."
In Late April, the Wall Street Journalreported that restaurants are even offering signing bonuses.
Full-service and high-end restaurants like Wolfgang Puck's Spago Beverly Hills, where servers can earn $100,000 a year with tips, also are struggling to recruit workers. Mr. Puck said in an interview that expanded unemployment benefits and new options like personal chef gigs are contributing to staffing shortages at Spago and his other restaurants.

"I don't think we should pay people to stay home and not work if there are jobs available," he said.

…

Illinois-based Portillo's Hot Dogs LLC boosted hourly wages in markets including Arizona, Michigan and Florida, and is offering $250 hiring bonuses. The chain has hired social-media influencers and built a van called the "beef bus" to help recruit. Still, many of the chain's 63 restaurants remain understaffed, said Jodi Roeske, Portillo's vice president of talent.

"We are absolutely struggling to get people to even show up for interviews," Ms. Roeske said.
We noted this nearly four weeks ago – after BLS data showed that there were over 100 million Americans who are out of the workforce – of which just 6.85 million were looking for a job.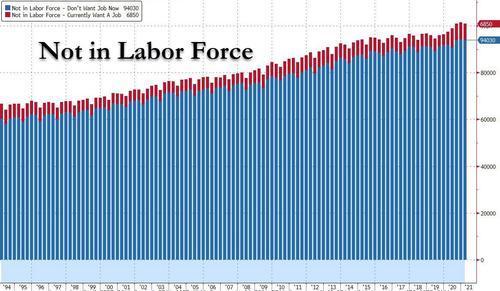 Consider the following striking anecdotes:
Early in the Covid-19 pandemic, Melissa Anderson laid off all three full-time employees of her jewelry-making company, Silver Chest Creations in Burkesville, Ky. She tried to rehire one of them in September and another in January as business recovered, but they refused to come back, she says. "They're not looking for work."
Sierra Pacific Industries, which manufactures doors, windows, and millwork, is so desperate to fill openings that it's offering hiring bonuses of up to $1,500 at its factories in California, Washington, and Wisconsin. In rural Northern California, the Red Bluff Job Training Center is trying to lure young people with extra-large pizzas in the hope that some who stop by can be persuaded to fill out a job application. "We're trying to get inside their head and help them find employment. Businesses would be so eager to train them," says Kathy Garcia, the business services and marketing manager. "There are absolutely no job seekers."
These are not one-off cases: these real-life events, revealed by Bloomberg, expose the striking statistical reality in the US: on April 1 the NFIB (National Federation of Independent Business) reported that in March a record-high percentage of small businesses surveyed said they had jobs they couldn't fill: 42%, vs. an average since 1974 of 22%.
Even JPMorgan admitted last month that for normalcy to return, people must not only be employed but must want to be employed – and suggested that the "robust" government stimulus may be keeping workers on the sidelines. Bloomberg even admitted that trillions in Biden stimulus are now incentivizing potential workers not to seek gainful employment, and instead sit back and collect the next stimmy check for doing absolutely nothing in what is becoming the world's greatest "under the radar" experiment in Universal Basic Income.
Yet, now Bloomberg reports that 'economists' (perhaps proponents of ongoing stimulus) are apparently "unclear about what's really causing this gap and how long it will last."
"There is definitely a job paradox that's going on," according to Bank of America senior US economist, Joe Song, who says that while it's difficult to quantify, "but it's clearly a challenge that's weighing on a quicker pace of recovery."
While the unemployment rate probably fell to 5.8% last month, according the median estimate in a Bloomberg survey of economists, the labor force participation rate remains well below pre-pandemic levels. Further, the employment to population ratio — which measures the share of the population that is employed — is still more than three percentage points below where it was before Covid-19.

Lingering health concerns, ongoing child care responsibilities and the inability to do some jobs from home are just some of the reasons why Americans are reluctant to return to work. Some are also retiring early.

And anyone who previously made less than $32,000 per year is better off financially in the near term receiving unemployment benefits, according to economists at Bank of America. -Bloomberg
Now, the argument has begun to shift to 'fair wages' – with the Economic Policy Institute's Heidi Shierholz, former Labor Department chief economist under Obama, saying: "Employers are like: 'Why the hell, if there are so many people who need jobs, can't I find somebody really awesome, really cheap?"
Of course, as massive stimulus 'coincides' with massive inflation across several categories, the definition of 'really cheap' is now relative when a gallon of milk jumps over 11% in a year, as one of many examples.
"If we're having that kind of job shortage at a time when the economy is still in front of what almost everybody thinks is going to be a very substantial boom over the next six months, I am concerned about inflation and inflation expectations," former Treasury Secretary Larry Summers, a good friend of Jeffrey Epstein, told Bloomberg TV in an interview.
According to policy makers, including Fed Chair Jerome Powell, the 'mismatch' (massive job shortage) is only temporary – and workers will 'likely' return to the labor force after their extended jobless aid programs are over.
Which begs the question – if employers are already having trouble attracting workers back into the labor force, why do we need a $1.8 trillion 'human infrastructure' plan?