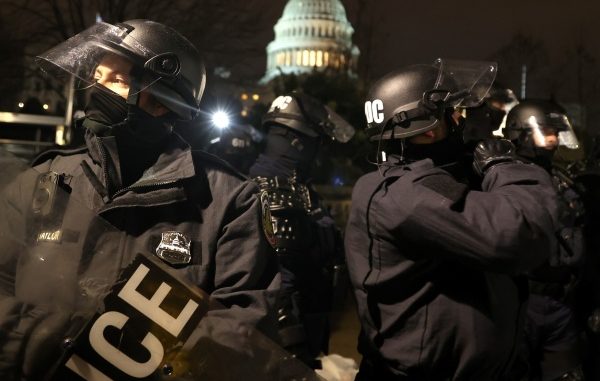 Capitol Police shot and killed a woman protester during the chaos and storming of the U.S. Capitol on Wednesday, the New York Post reported citing unidentified law enforcement sources.
The Post said the woman – identified by Fox News as 14-year Air Force veteran Ashli Babbit of San Diego – was draped in red, white and blue when she was shot. Photos of her laying on the floor, on top of what looks like a Trump flag, show her being treated by police with chest compression, apparently trying to stop the bleeding.
She was transported via stretcher with blood streaming from her mouth and later died at a local hospital.
Video of the incident, included in the Post story, shows a mob of people crowding around a double door when a single shot can be heard. The video, which shows the scene from several feet behind the woman and with several others in between, moves forward to show police administering aid with other officers yelling amid the chaos for others to get back because the police are trained to treat her.
In another video of the shooting, from a side angle near the double doors, the sound of the single gunshot is heard before several people immediately clear the area and a voice can be heard saying, "We have an active shooter. There is an active shooter here. Get her down." Another voice can be heard asking for a flashlight.
Fox reported, citing Washington Fox affiliate WTTG, that Babbit's husband told the station his wife was an avid supporter of President Donald Trump.
Via News max