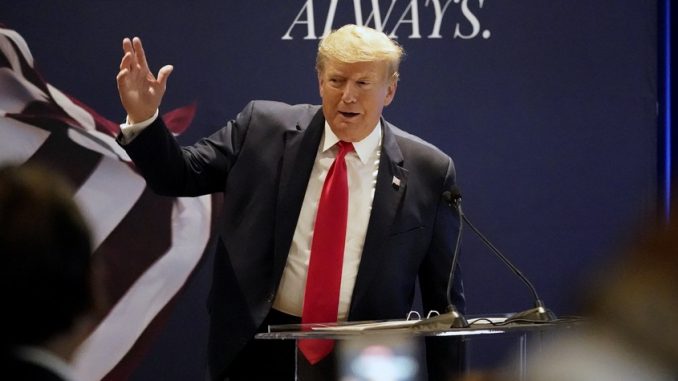 It's Trump being Trump. Joe Biden tested positive, again, for COVID-19 and is back in isolation after a brief reprieve last week. Biden received a get well wish from the former president via social media (of course) and it's not a standard run-of-the-mill get-well-soon wish. Trump used the opportunity to weave in some 2020 election grievances into his statement.
Trump posted on Truth Social. It's a mix of references to Biden's mental acuity and a reference to ballots from nursing homes in Wisconsin in the 2020 presidential election all mixed together.
"Joe Biden's second bout of Covid, sometimes referred to as the China Virus, was sadly misdiagnosed by his doctors," Mr. Trump said late Sunday on Truth Social, the social media platform he launched after getting kicked off Twitter.

"He instead has Dementia, but is happily recovering well. Joe is thinking of moving, part time, to one of those beautiful Wisconsin Nursing Homes, where almost 100% of the residents miraculously, and for the first time in history, had the strength and energy to vote — even if those votes were cast illegally. Get well soon, Joe!" Mr. Trump wrote.
Okay, then. Biden tested positive for the coronavirus on Saturday after testing negative four times last week. The White House physician, Dr. Kevin O'Connor (Biden's personal physician), called it a Paxlovid rebound. He feels well and his symptoms have not returned. Rebounds by those patients given Paxlovid is reported to be a small percentage of recipients. Dr. Fauci, however, experienced the same thing after he was given Paxlovid.
The antiviral pill developed by Pfizer is the first pill approved by the Food and Drug Administration for treatment of COVID-19. It was granted emergency use authorization in December. Though it has been approved, data from Pfizer shows some users can experience a rebound after completion of a round of treatment. Users will test negative and then suddenly begin testing positive again.

Researchers say it might have something to do with how the drug is metabolized in certain individuals and whether it reaches enough infected cells to stop all viral replication.

However, experts say the drug appears to be staving off severe disease as it did in clinical trials.
With two such high profile patients, Fauci and Biden, it is hard not to think that rebounds are not typical. Only a small percentage of patients given Paxlovid experience rebounds, despite what social media might have you think.
Around 1% to 2% of people taking Paxlovid in Pfizer's clinical trial tested positive for the coronavirus after having tested negative. Rebound rates are around 5% among the tens of thousands of people who've taken the drug in real-life settings, the White House Covid response coordinator, Dr. Ashish Jha, said at a news conference last week.

"If you look at Twitter, it feels like everybody has rebound," Jha said. "But it turns out there's actually clinical data."

A small study in June found that less than 1% of Covid patients had their symptoms rebound around nine days, on average, after they took Paxlovid. In a larger study of 13,600 Covid patients, which hasn't been peer-reviewed, 6% had their symptoms rebound in the month following the treatment.
Was it just bad luck that Biden and Fauci experienced rebound COVID? Maybe. Or maybe it is as FNC's Dr. Makary said. Not everyone should be prescribed Paxlovid. He suggests that if everyone is being treated with it then the virus and the medicine become too familiar together. The virus mutates and adjusts its response to the drug. He thinks the drug is over-prescribed.
Back to the get well wish. This one seems to be the real deal. The last one, when Biden received his original COVID-19 diagnosis, a get well wish from Trump proved to be a fake. It was fact-checked to determine if it was real.
CLAIM: Former President Donald Trump in a statement wished President Joe Biden a speedy recovery from COVID-19 and referred to his own fight against the virus as "Herculean."

AP'S ASSESSMENT: False. This statement is fabricated, a Trump spokesperson confirmed on Twitter. It does not appear among the former president's public statements on his website or on social media.
It went viral at the time. It kinda sounds legit, right? And, it's true – no one wants Kamala to be president.
"I hope Sleepy Joe is able to bounce back quickly, much as I was," the bogus statement read. "Doctors described my fight against the China virus as Herculean, and not meaning the woke Disney Hercules but rather the Kevin Sorbo one. The Lou Ferrigno one as well."

The fake statement then wished Biden a "speedy recovery" and said that "no one wants" Vice President Kamala Harris to take his place.
We can all wish Biden a speedy recovery. We know Kamala is waiting nearby.
Via            Hot Air
The Death of Black Coffee:
Latest studies have found that 1 tiny tweak to your morning coffee puts your body into fat-burn ing mode for the rest of the day.
This coffee trick takes less than 10 seconds…
Yet, it instantly ignites your metabolism and boosts your health, energy and well-being at the same time!
Here's to an amazing start to your day 🙂
====> Try This 10 Sec Fat-Burning Coffee Trick!