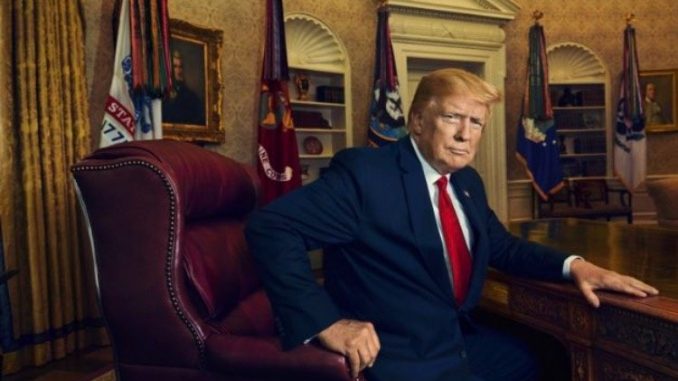 The National Portrait Gallery installed a photo of President Trump in the Oval Office sitting at the Resolute Desk in the popular America's Presidents exhibition.
The Smithsonian museum is scheduled to reopen on May 14 after closing in November 2020.
The 2017 photo of Trump taken by photographer Pari Dukovic for TIME Magazine currently on display is a "stand-in until his official portrait is completed," The Insider reported.
The Washington Post reported:
When the National Portrait Gallery reopens May 14, visitors will have the first opportunity to see a President Donald Trump portrait in the popular America's Presidents exhibition.

Pari Dukovic's photograph of the former president depicts him seated in the Oval Office behind the Resolute Desk. It has taken the place of Kehinde Wiley's portrait of President Barack Obama, which, starting in June, will go on a year-long, five-city tour with Amy Sherald's painting of former first lady Michelle Obama. Shepard Fairey's "Hope," a collage acquired by the gallery in 2008, replaces the Wiley painting.

"There's always a sense of transition when we install a new presidential portrait," Dorothy Moss, the gallery's curator of painting and sculpture, said of the exhibit. "We are a museum that reflects art history and biography, and we are able to celebrate the presidents with portraits that are historical documents."
Remember Barack Obama's ridiculous portrait?
Trump's portrait vs. the Obama portrait it will be replacing at the Smithsonian pic.twitter.com/6FOubbx2op

— Benny (@bennyjohnson) April 26, 2021