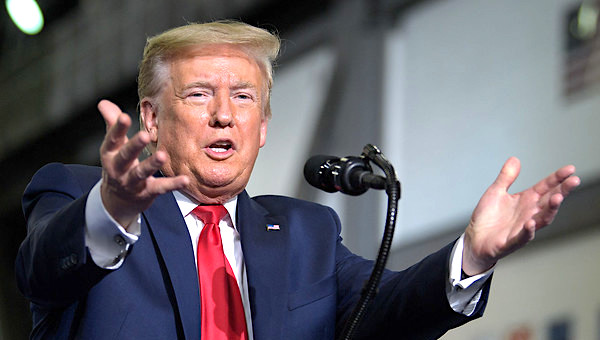 Former White House chief strategist Steve Bannon sees a brand-new path for his former boss Donald Trump to return to the White House in 2024 – after a two-year stint as speaker of the House.
"Trump is a disrupter, but he has a long-term vision because I absolutely believe in the marrow of my bones that he will be our nominee in 2024," Bannon told a group of Boston Republicans at a Lincoln Day Breakfast on Saturday.
"He'll come back to us. We'll have a sweeping victory in 2022, and he'll lead us in 2024," he said, according to the Boston Herald.
Bannon suggested Trump could run for Congress in 2022 and then seek the speaker post, as Republicans are expected to regain the majority.
"We totally get rid of Nancy Pelosi, and the first act of President Trump as speaker will be to impeach Joe Biden for his illegitimate activities of stealing the presidency," Bannon told the West Roxbury Ward 20 Republican Committee.
Bannon, through his popular video podcast "War Room," has contended that evidence of election fraud collected through hearings in six swing states and other investigations shows Trump won. He argues that courts, including the U.S. Supreme Court, did not address the evidence, instead dismissing the cases on procedural grounds such as standing and timing.
On Saturday, he told Republicans they need "to confront this radical Biden administration every day."
"Going forward, we can transform the Republican Party into more of a MAGA movement … just immerse the (Make America Great Again) movement with the Republican Party, and we're going to have massive victories in the future," he said.
Bannon said it's a battle of "populists, nationalists, traditionalists versus these kind of globalists, elites, secular radicals."
"This is what I think the future of this movement is … we're going to have a big aspect of disaffected Democrats that start to come over," he said.
Lou Murray, chairman of the Republican group, said the radical elements of the Biden administration will chase out traditional Democrats.
"The Trump brand isn't over. The MAGA, America First message of Donald Trump is extremely popular, and that message will keep being extremely popular," he said.
Bannon was pardoned by Trump after he was charged with fraud related to a border wall project.
At the time, White House press secretary Kayleigh McEnany told reporters Trump granted a full pardon to Bannon.
"Prosecutors pursued Mr. Bannon with charges related to fraud stemming from his involvement in a political project. Mr. Bannon has been an important leader in the conservative movement and is known for his political acumen," she said.
Bannon, former executive chairman for Breitbart News, took over as chief executive officer of Trump's 2016 campaign three months before the election, focusing on a message of "national security and sovereignty."
Via Wnd