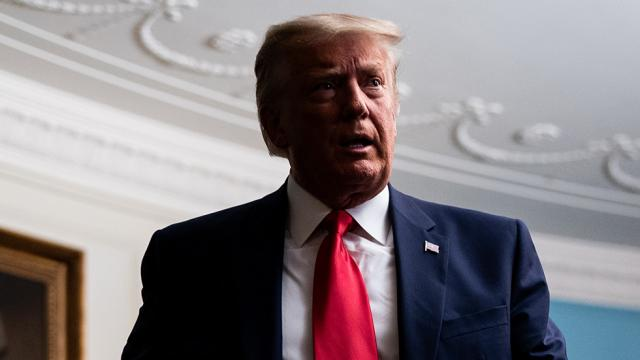 Former President Trump is set to speak at the annual Conservative Political Action Conference (CPAC) later this month in Orlando, Fla. — his first public appearance since leaving the White House.
Two sources familiar with the matter told The Hill that Trump will be speaking about the future of the GOP and the conservative movement. He's also expected to take aim at President Biden's immigration platform, specifically his "disastrous amnesty and border policies," according to the sources.
A spokesperson for the American Conservative Union, which hosts CPAC, also confirmed Trump will speak. The spokesperson said Trump will appear on Feb. 28, the last day of the conference.
Trump's upcoming speech at CPAC, which is being held from Feb. 25 to Feb. 28, was first reported by the New York Post.
The annual conservative confab, which draws an array of activists, think tankers and Republican lawmakers, is typically held in Maryland but was moved this year to the Hyatt Regency in Orlando in order to avoid stringent coronavirus restrictions.
The move to Florida, nearer to Trump's residence in Palm Beach, sparked speculation over whether the former president would make an appearance.
News of Trump's speech comes amid an intraparty reckoning over Trump's place in the GOP. While lawmakers in Congress have been divided over the former president, most recently regarding his impeachment over his role in inciting the Jan. 6 riot on Capitol Hill, Trump remains wildly popular among the party's grassroots.
While the former president had laid low since leaving office in January, he is expected to play a role in boosting certain candidates in the 2022 midterms. House Minority Leader Kevin McCarthy (R-Calif.) made a trip to Florida in late January, where he and Trump reportedly discussed taking back the lower chamber in 2022.
Trump has not specified who he intends to back but has given some indication that he intends to support candidates who promote his policies.
Earlier this week, the former president released a statement hitting Senate Minority Leader Mitch McConnell (R-Ky.), stating that he would back primary candidates who "espouse Making America Great Again."
"Where necessary and appropriate, I will back primary rivals who espouse Making America Great Again and our policy of America First. We want brilliant, strong, thoughtful, and compassionate leadership," Trump said.
Trump's focus on Biden's immigration plan comes as the president pushes for a broad overhaul of the country's immigration system.
A bill with his support was introduced in Congress this month and includes providing a path to citizenship for young people brought to the U.S by their parents as children, allowing immigrant farmworkers and those with temporary protected status to swiftly obtain green cards and permitting undocumented immigrants to apply for green cards after five years.
Immigration was a top issue for Trump, who advocated for stringent restrictions on both legal immigration and refugees and worked to build a wall at the U.S.-Mexico border.
While Trump has refused to publicly accept his November loss to Biden, he has not ruled out running for the White House again in 2024.
Speaking at CPAC is viewed as a key step for any potential GOP presidential hopeful given the annual event's legacy of helping propel activists and lawmakers onto the national stage by amplifying their exposure to activists and voters.
The CPAC tradition of fueling presidential bids goes back to former President Reagan. Reagan, then the governor of California, made an appearance at the conference in 1974 — six years before he became president.
Trump started making appearances at the gathering in 2011, using his speeches to burnish his conservative bona fides.
Besides Trump, a who's who of potential 2024 GOP contenders are already slated to speak at the event. Among them are Govs. Kristi Noem of South Dakota and Ron DeSantis of Florida, former Secretary of State Mike Pompeo, and Sens. Ted Cruz (Texas), Josh Hawley (Mo.), Rick Scott (Fla.) and Tom Cotton (Ark.).
"At some point every serious Republican presidential candidate has to test his popularity and his message at CPAC," Bob Heckman, a Republican consultant who has worked on nine presidential campaigns, told The Hill. "For over 40 years it has been the first stop in the GOP presidential primary process."
Via The Hill