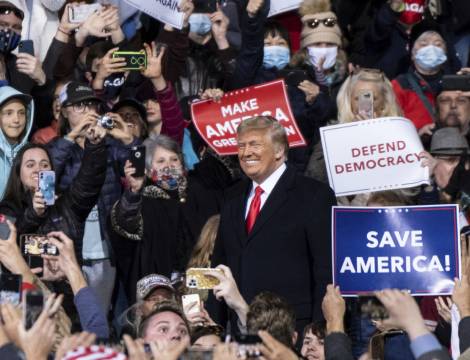 President Donald Trump delivered a stirring rebuke of the "rigged election" as he campaigned for Republican senators left to fight for Senate control in the Jan. 5 runoff elections, which he warned Democrats are going to try to "steal," too.
"You must go vote and vote early starting Dec. 14 – you have to do it – they cheated and they rigged this presidential election, but we will still win it," Trump told a large Valdosta, Georgia, rally Saturday night, which aired live on Newsmax TV. "We will still win it.
"And they're going to try to rig this election, too."
Incumbents Sens. David Perdue, R-Ga., and Kelly Loeffler, R-Ga., face challenges from Democrats Jon Ossoff and Rev. Raphael Warnock in runoff elections that might determine the balance of power in the Senate.
Republicans already hold 50 Senate seats, but if Democrats sweep the two Georgia runoffs and Joe Biden wins the White House, the vice president casts the deciding vote in a 50-50 tie.
"At least you have two beauties, and you know what you also have two beauties running against them, but beauty in a different way," Trump told a raucous crowd of Republican supporters. "They're two beauties, but there's never been a case where a state has this prominence on the Senate races, because they're never together.
"This is something that's very important, and you have to get out you have to vote. You have to make sure you have every vote counted. Everybody vote has to count. You got to make sure they don't throw away any ballots. You got to make sure that when they collect the ballots – they're bragging about how many ballots they have already collected – you've got to make sure your secretary of state does what the hell he's doing.
"And you got to make sure your governor gets a lot tougher than he's been. He's gotta get a lot tougher."
Trump seemed to admit remaining in the White House is an uphill battle, suggesting Vice President Mike Pence would not be the one casting the deciding vote in the next Senate if Democrats win a 50-50 Senate split with a Jan. 5 sweep.
"At stake in this election is control of the U.S. Senate, and that really means control of this country," Trump said. "The voters of Georgia will determine which party runs every committee, writes every piece of legislation, controls every single taxpayer dollar.
"Very simply you will decide whether your children will grow up in a socialist country or whether they will grow up in a free country."
He added later, "if the other side manages to steal both elections, we will have total one party socialist control. And everything you care about will be gone. Your whole philosophy is going to be gone."
The crowd broke out in a "Stop the steal" chant, before Trump added: "But we're working hard to ensure that it doesn't happen, and now they're trying to steal these two important Senate seats from Georgia."
Via Newsmax