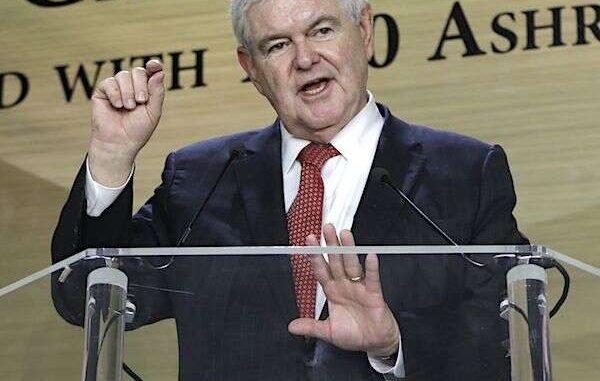 President Donald Trump on Monday named former House Speaker Newt Gingrich and several others to the Defense Policy Board just weeks after pushing out several of the panel's top members, Politico reports.
Trump appointed Gingrich, Thomas Carter, Thomas Stewart, Scott O'Grady, Edward Luttwak, former Rep. Randy Forbes, former Sen. Robert Smith and Charles Glazer, all of whom are close allies of the president.
Trump nominated O'Grady to serve as assistant secretary of defense for international security affairs in November, but the Senate has yet to act on this, and former House Republican Forbes was an early candidate for Trump's secretary of the Navy.
Almost a dozen board members were removed by the Pentagon last November, including former Secretaries of State Madeleine Albright and Henry Kissinger, as well as former Republican House Majority Leader Eric Cantor. Nine more board members were fired this month, paving the way for Trump allies David Bossie and Corey Lewandowski, among others.
Acting Defense Secretary Chris Miller said in a statement: "These incoming members bring extensive defense and national security affairs experience to this advisory committee from their time in Congress, the State Department, our armed forces, and beyond."
However, Politico notes the time-consuming security clearance and financial disclosure process could cause these appointments to take weeks or possibly months, and could be canceled following inauguration day.
Via News max