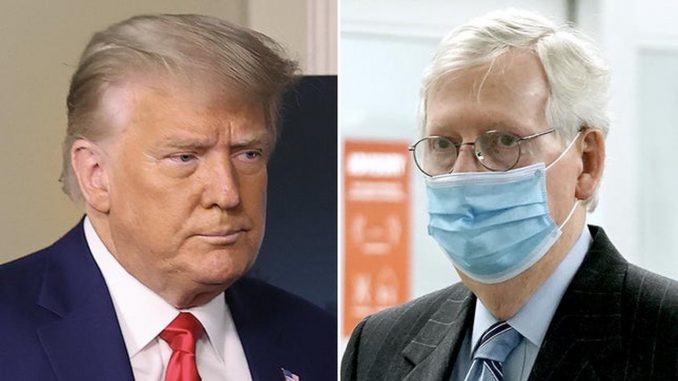 Former President Trump said late Monday that Senate Minority Leader Mitch McConnell (R-Ky.) is "helpless" against considerations by President Biden to expand the number of Supreme Court justices serving on the bench.
"With leaders like Mitch McConnell, they are helpless to fight.  He didn't fight for the Presidency, and he won't fight for the Court," Trump said in a statement released by the Save America PAC. "If and when this happens, I hope the Justices remember the day they didn't have courage to do what they should have done for America."
Trump said it would be "ironic" if Democrats packed the court after the current contingent of justices, led by Republicans 6-3, rejected election challenges by Trump and his allies in a number of states.
The Hill has reached out to McConnell for comment.
In the statement, Trump warned the court would be "PACKED by the same people, the Radical Left Democrats (who they are so afraid of!), that they so pathetically defended in not hearing the Election Fraud case."
Trump's comments come after Biden signed an executive order on Friday establishing a commission to study whether to add seats to the Supreme Court and other reform proposals.
The commission will look into the issue of potentially expanding the court, which has been discussed among progressives but heavily criticized by Republicans, including by Trump on the campaign trail.
In a statement on Friday, McConnell called the creation of Biden's commission a "direct assault on our nation's independent judiciary and yet another sign of the Far Left's influence over the Biden Administration."
"President Biden campaigned on a promise of lowering the temperature and uniting a divided nation. If he really meant it, he would stop giving oxygen to a dangerous, antiquated idea and stand up to the partisans hawking it," he later added.
Trump sparred with McConnell frequently during his one-term presidency that culminated in the two men no longer speaking after the Jan. 6 riot at the Capitol by a pro-Trump mob.
Over the weekend, Trump called the Kentucky Republican a "dumb son of a bitch" before members of the Republican National Committee for not doing more to overturn the 2020 presidential election results in his favor.
Via The Hill