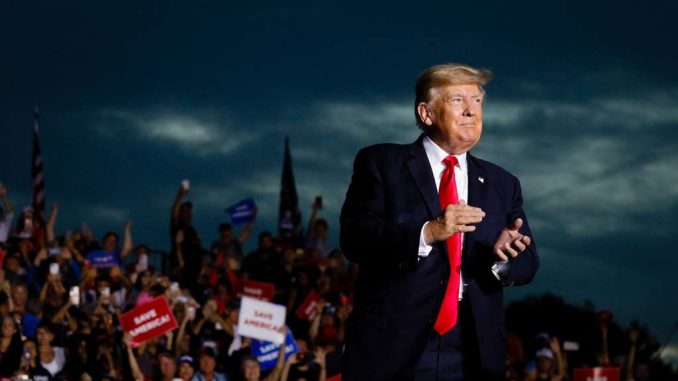 Former President Trump helped Republicans raise $56 million in the first six months of 2021, underscoring his continued sway within the GOP.
Trump helped raise $56 million between Jan. 1 and June 30, the GOP's online fundraising platform WinRed reported Friday, according to Reuters.
This includes more than $34 million from the Trump Make America Great Again Committee, which raises money for the GOP and fundraising groups controlled by the former president, and more than $21 million for Trump's own fundraising committees and groups.
In total, WinRed reported handling more than a quarter of a billion dollars raised for Republicans in the first half of the year.
NEW: Top fundraisers on the GOP's @WinRed platform in the first half of 2021:

$34.36M – Trump MAGA
$26.71M – NRCC
$23.02M – NRSC
$21.27M – Trump Save America (Joint Cmte)
$19.09M – RNC
$7.79M – Tim Scott
$7.79M – Team Scalise pic.twitter.com/nHaN6JPVWQ

— Rob Pyers (@rpyers) July 31, 2021
The New York Times noted that the fundraising slowed over the course of the year.
Trump raised $13.8 million through the Make America Great Again Committee after the Jan. 6 Capitol attack and subsequent impeachment as his days in the White House came to an end. But by June, the number shrank to $2.6 million.
Much of the money from the Trump Make America Great Again Committee came from the recurring donation program, the newspaper noted. An official familiar with the matter told the Times that party officials had stopped the recurring withdrawals as of this month.
The numbers underscore Trump's influence over the party, as he was the strongest online fundraiser of any Republican politician. Sen. Tim Scott (R-S.C.) followed behind the former president, raising $7.8 million online. Scott delivered the GOP response to President Biden's joint address to Congress in April.
Via The Hill