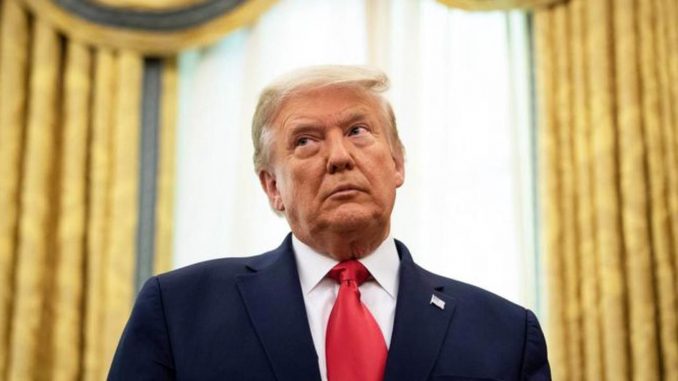 Former President Trump on Tuesday called for Republicans to boycott companies who are opposed to voting laws like the one recently signed into law by Georgia Gov. Brian Kemp (R).
In a statement released by Trump's Save America PAC, the former president claimed that the voter law signed by Kemp did not tighten voting restrictions enough.
"Too bad the desperately needed election reforms in Georgia didn't go further, as their originally approved Bill did, but the Governor and Lt. Governor would not go for it," Trump said.
"The watered-down version, that was just passed and signed by Governor Kemp, while better than before, doesn't have Signature Matching and many other safety measures, which were sadly left out. This Bill should have been passed before the 2020 Presidential Election, not after," he continued.
Last month, Kemp signed a sweeping voting bill — S.B. 202 — that limits the use of ballot drop boxes and imposes new photo ID requirements for absentee voting. It also prohibits handing out food and water to people within 150 feet of a polling site, including to those waiting in line to vote.
A slew of other state legislatures have proposed similar bills across the country after Trump and his allies repeatedly alleged, without evidence, that the 2020 election was tainted by widespread voter fraud.
Trump lost Georgia by more than 11,000 votes to President Biden in 2020, making it the first time in more than 20 years that the reliably red state went for a Democrat in a presidential election.
The former president then claimed at the time that the state experienced widespread voter fraud and during a call with Georgia Secretary of State Brad Raffensperger (R) appeared to pressure the official to "find" enough votes to overturn the results.
Both federal and state elections officials have repeatedly stated that the 2020 election was not subject to widespread voter fraud.
"The Democrats in Georgia really push the Republicans around, like the so-called Consent Decree, which was illegally signed by the Secretary of State without Legislative Approval—a Democrat DREAM," Trump said.
"Boycott all of the woke companies that don't want Voter I.D. and Free and Fair Elections."
Following the passage of the bill, several major corporations including Atlanta-based Delta Air Lines and Coca-Cola came out against the voting law.
Delta Air Lines CEO Ed Bastian echoed this criticism, telling employees in a memo that "it's evident that the bill includes provisions that will make it harder for many underrepresented voters, particularly Black voters, to exercise their constitutional right to elect their representatives."
Most notably, MLB pulled the league's All-Star Game out of Atlanta in protest of the new law.
On Saturday, Trump railed against the companies, calling on Republicans and conservatives to band together and "fight back."
"It is finally time for Republicans and Conservatives to fight back— we have more people than they do— by far! Boycott Major League Baseball, Coca-Cola, Delta Airlines, JPMorgan Chase, ViacomCBS, Citigroup, Cisco, UPS and Merck. Don't go back to their products until they relent. We can play a better game than them," he said in a statement at the time. 
Via The Hill