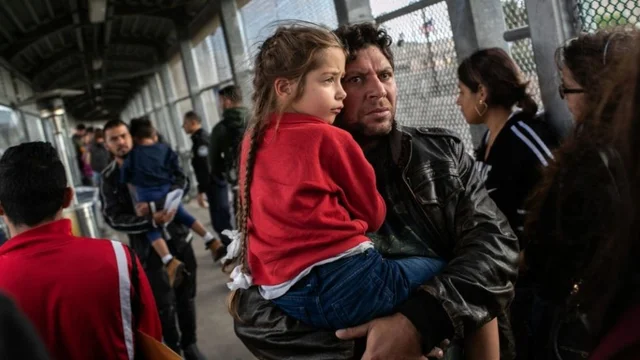 The Trump administration is working to place new restrictions on which immigrants are eligible for asylum, its latest effort to curb both legal and illegal immigration.
In a new 419-page rule from the Department of Homeland Security (DHS) and Department of Justice (DOJ) the administration said it will move to curtail the circumstances under which a person can apply for asylum protections, a decision it acknowledges will likely lead to a drop in asylum grants.
Specifically, the new regulations would broaden judges' power to say asylum applications are "frivolous," a ruling that would bar an immigrant's request from being approved, and deny requests without a hearing if the claims are deemed to be backed by insufficient evidence.
The new policy also says that asylum seekers must prove that they will suffer "a severe level of harm" should they return to their home country. Current law says asylum seekers must have a "credible fear of persecution or torture."
The definition of persecution is also limited in the new rule and will not cover some treatment that the U.S. deems "unfair, offensive, unjust, or even unlawful or unconstitutional," "harassment" or "threats with no actions taken to carry out the threats." Fears of gang violence will also be insufficient.
Beyond curtailing the circumstances that would lead to an asylum claim being granted, the rules also empower judges to weigh a series of actions by the seeker in determining whether to grant protections, including if they illegally crossed the U.S. border.
"The Departments note that these changes are likely to result in fewer asylum grants annually due to clarifications regarding the significance of discretionary considerations and changes to the definition of 'firm resettlement.' However, because asylum applications are inherently fact-specific, and because there may be multiple bases for denying an asylum application, neither DOJ nor DHS can quantify precisely the expected decrease," the administration wrote in the rules.
The new rule will be published Friday in the Federal Register and then takes effect in 30 days.
The move is the latest in the Trump White House's four-year effort to curtail immigration into the U.S. The administration pushed new rules earlier this year that would make all applications for asylum at the southern border ineligible unless the migrants had previously applied in another country or are the victims of sex trafficking. It also sought to implement a policy requiring asylum seekers, many of whom are from Central America, to remain in Mexico while their cases are adjudicated.
Via The Hill