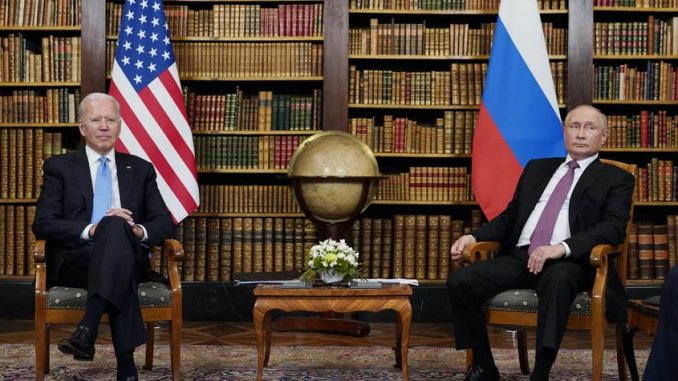 Who could blame Trevor Reed's parents for having that thought? Their son was arrested in 2019 and has been held in a Russian prison ever since. Russian authorities released a statement Monday to manipulate western media with a claim that Trevor was receiving medical care in a hospital. However, that statement does not tell the story. His parents are worried that because of Trevor's declining health, their son may end up as another American, Otto Warmbier, tragically did after his detention in North Korea.

Last month I wrote about Trevor, a former Marine who was visiting his longtime girlfriend in Moscow in August 2019. He was spending the summer there to immerse himself in the Russian language which he hoped would help him with the foreign language requirement of his degree program at the University of North Texas. Trevor was arrested after a night out and later sentenced in 2020 for allegedly assaulting a police officer. He received a nine year sentence. He has no recollection of the alleged assault. Ambassador Sullivan has called his conviction ridiculous and his trial a theater of the absurd.

Trevor is currently being held in the IK-12 gulag in the Republic of Mordovia, approximately an 8-hour drive from Moscow. Last December Trevor was exposed to a prisoner with active tuberculosis for a lengthy amount of time. The physical symptoms he has described to his parents since that time indicate to them that he, too, has tuberculosis. That prisoner was gravely ill. Other prisoners were given prophylaxis by prison officials but not Trevor. His health has rapidly deteriorated. The Russian government has not provided adequate medical care and it has ignored the Embassy's ongoing efforts on behalf of Trevor's health and safety.

What makes Trevor's case particularly notable is the connection to Joe Biden. Trevor was a Presidential Guard – which is an elite unit that guards the President and VP at the White House and at Camp David-during the Obama/Biden Administration which means it was his job to take a bullet for then-VP Biden and his family, This is where the story gets complicated. A family representative released a good summary of recent events on behalf of Trevor's parents, Joey and Paula Reed on Monday.
On Monday, March 7th, a senior White House official turned down the Reeds' request to meet with President Biden in Ft. Worth. On Tuesday (March 8th), the Reed family conducted a demonstration to raise awareness of Trevor's plight outside President Biden's event in Ft. Worth. En route to Texas, and clearly having seen the press about the demonstration, the Press Secretary suddenly told reporters the White House was working to schedule a meeting for us and told reporters it would be scheduled "short-term." The President drove past the Reeds' demonstration and called them about an hour later to apologize for not having been able to stop and promised to have staff follow up to schedule a meeting when he got back to D.C. On March 28th, Trevor declared a hunger strike to protest being sent to solitary while injured and showing symptoms of active TB. On March 30th, the Reeds conducted a demonstration in Lafayette Park asking for a meeting with POTUS. Later that day, the President met the Reeds in the Oval Office for nearly 40 minutes. On or about April 1, we believe Trevor was transported back to a 'prison hospital' where he has yet to receive any meaningful medical care.
When I wrote about Trevor's detention in Russia, I was skeptical that Joe Biden was even aware that Trevor was imprisoned or of his declining health. My focus was on the fact that Team Biden missed a good opportunity in Fort Worth to bring together Joey and Paula Reed with the president to talk to him about Trevor. Again, Trevor was once a part of the team of Marines who kept Biden safe in the Obama administration. Was it too much to ask that his parents get a few minutes with Biden in Fort Worth? Anyway, Trevor's parents aren't letting up and they even went to protest outside the White House to get Biden's attention. It worked. They met with Biden in the Oval Office. Finally Trevor was taken to a prison hospital. The problem is that his parents don't believe that he is receiving proper treatment.
Joey and Paula Reed released a statement as an update to Trevor's situation.
"Trevor has been transferred back to a prison 'hospital' at the IK-21 gulag in Mordovia. Our son continues to experience symptoms consistent with active tuberculosis. As a result of his hunger strike, Trevor lost seven pounds in five days, his health continues to deteriorate by the day, and we remain terrified that Trevor will become the next Otto Warmbier if the Administration doesn't act urgently to bring him home. Recently, we consulted with Dr. Richard E. Waldhorn, Clinical Professor of Medicine at Georgetown and a pulmonary specialist who advised us that untreated tuberculosis has a mortality rate as high as 70%.

"When we dropped our then 28-year-old off at the airport before he left for Russia, he was in excellent health and weighed about 160 pounds. Recently, at the prison 'hospital' he weighed 136 pounds. We worry every day that Trevor will become the next Otto Warmbier, and even if he doesn't, that he will come home with lifelong consequences from Russian authorities' inattention to his symptoms and their refusal to provide any meaningful medical care."

"We urge the Administration to act with urgency. Our son is out of time."
Another former Marine, Paul Whelan, is also jailed in Russia. This is a good time for Biden to make good on his claims that he and his wife are strong supporters of our military and veterans. Biden's team should work tirelessly to secure the release of Trevor and also Whelan. Until then, Trevor's parents are reminding Biden that their son needs his help now.
As I finished this post, I received one more update.
[DAY 963] Trevor was taken to prison hospital LPU-21 last Friday after losing 7 lbs in 4 days on hunger strike. He was able to call to his gf one time, but he hasn't called since. The last time he disappeared after a hospital visit, he spent 9 days in a hell hole, "by accident" pic.twitter.com/NUiGhVcitu

— Free Trevor Reed (@freetrevorreed) April 5, 2022
Via          Hot Air