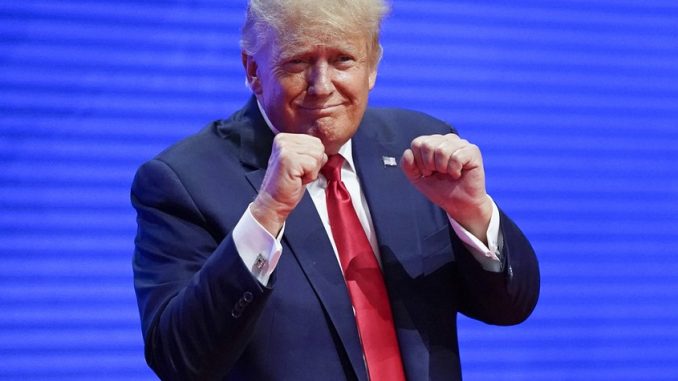 Will Donald Trump run for president in 2024 or won't he? If you listen to a top Trump donor, you may begin to question if Trump will run when it's time for him to make a decision. The donor says he won't run.
Dallas businessman Doug Deason was a key Trump backer in 2016 and 2020. He told the Daily Mail that he thinks Trump is enjoying his life now and would do well to play the role of kingmaker instead of running again for president.
Deason said Trump had a lot to lose by running.

'I think Donald Trump is enjoying life,' he said. 'And I think that he is in a position as the power broker.

'He's the kingmaker and why would he want to go back and get the crap beat out of him all the time, and have all the responsibility and not be building his empire?

'He's had to go back and help rebuild it and you know, why let it deteriorate?

'Why would it fall apart again? Because he's just gonna get attacked just like he was.

'And he can be the kingmaker without being the king.'
He's right. At age 76, he should be in his retirement years. Americans don't want more elderly candidates. We've seen the disaster of the Biden administration. Trump is a little younger and has much more energy and mental alertness than Joe Biden does, but he's still 76 years old now and will be 78 years old in 2024. That's too old for the hardest job on earth. His policies in office were wildly successful and the economy was the best in years, maybe ever. He's been very successful in choosing candidates to endorse in GOP primary races. He should embrace the role of kingmaker.
Deason acknowledges that Trump still has a hold on grassroots voters in the Republican Party. He also knows that going public with these thoughts will be seen as a strong hint to Trump to bow out of the race. Deason was a key player in helping Trump secure Texas in 2016 and was co-chair of Trump's Victory Fund in 2020. He and his father donated more than $900,000 to help elect Trump and other Republicans. He thinks if Trump runs, he will win the GOP nomination but lose the general election. He's ready for Ron DeSantis. He has held fundraisers for DeSantis in his re-election campaign.
This time around, he said he was not turning his back on Trump, who he said would still likely win the Republican nomination if he decided to run.

But he talked up the appeal of DeSantis and his wife Casey.

'I think Ron DeSantis would be Donald Trump without all the baggage.

'I mean Donald J. Trump had the best policies of any president in my lifetime, including President Reagan.

'But you know he could be petty about things, and he wouldn't let things go. And you know, you love it and hate it.'

Deason has held fundraisers for DeSantis as he campaigns for another term as Florida governor.
He thinks that DeSantis listens to conversations and opinions well. And, Deason says that Casey DeSantis would be a "wonderful" first lady.
'He'll sit and listen and let people engage, and he won't dominate a conversation,' he said, contrasting that approach with Trump.

'I think Ron would be a wonderful president.'

And he comes as part of a package, he said.

'I think Melania was a wonderful first lady but she didn't get the respect that she deserved.

'Casey DeSantis is classy. She's a beautiful spokesperson for him. She's intimately involved in his campaigns.

'You're getting a twofer is what you're getting with them.'
Is Deason coming forward with his encouragement for Trump to sit 2024 out in hopes that others will come forward and advise him the same way? Maybe. Or maybe he is seeing a trend – small but likely to grow – of DeSantis moving up in polls when compared in a head-to-head match up with Trump. He's a businessman. Maybe he's just covering his bases.
Deason does rightly advise Trump to let the 2020 election results go.
If Trump runs, continued Deason, he would win the primary but his risks losing the general election because of his continuing claims that the 2020 ballot was rigged.

'You know, it doesn't even matter. It's totally irrelevant,' he said.

'If it was stolen there's no remedy. There never was a repair to fix that.

'And so whether it's stolen or not, whatever you believe, it's doesn't matter. He's just got to stop talking about it.'
Governor Chris Christie made a good point today on a Sunday political show. He said that if Trump runs (he says the chances are 50/50) he should concentrate on talking about solutions to the problems Americans have, not the stolen election, if he wants to win. Voters look forward, not backwards.
Trump was in Dallas on Saturday to speak at CPAC Texas. He won the CPAC straw poll easily. There is no doubt that many of Trump's core supporters want him to run in 2024. He sounded as he always does at these kind of events.
I ran twice. I won twice and did much better the second time than I did the first getting millions and millions of more votes than in 2016 and likewise getting more votes than any sitting president in the history of our country by far,' he said to wild applause.

'And now we may have to do it again.'
Straw polls are kinda fun but they mean nothing. Remember how many straw polls Ron Paul won? Supporters of various candidates game the system. Trump gets bragging rights, though. At least for now.
Via            Hot Air
The Death of Black Coffee:
Latest studies have found that 1 tiny tweak to your morning coffee puts your body into fat-burn ing mode for the rest of the day.
This coffee trick takes less than 10 seconds…
Yet, it instantly ignites your metabolism and boosts your health, energy and well-being at the same time!
Here's to an amazing start to your day 🙂
====> Try This 10 Sec Fat-Burning Coffee Trick!